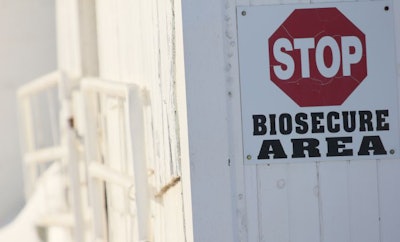 Kansas State University researcher says bioexclusion is the foundation of a successful feed safety program
The concept of bioexclusion will play a big role in the feed safety programs in the future, according to Jordan Gebhardt, Kansas State University (KSU) assistant professor in swine nutrition, who spoke November 19 during 2020 KSU Swine Day.
"What is the future of feed safety research? One of the key principles in … where we are at today and certainly where we will be in the future is the concept of bioexclusion," he said. "Bioexclusion is the principle of keeping any biological pathogen or biological agent away from our susceptible populations. Bioexclusion is the foundation of a successful feed safety program."
But, he said, there are some areas where additional research is needed, including improving sampling strategies used to detect biological contamination and incorporating control measures to reduce contamination risk. He also said there is a need to understand the risk of various ingredients and various activities, such as movement of vehicles and employees.
"These are very, very important within this concept of feed biosecurity, and we certainly cannot overlook the movement of people or movements of other fomites such as vehicles when developing a feed biosecurity program," he said.
Once contamination has occurred, how can it be controlled? Gebhardt said more research is needed to better understand the best methods to decontaminate surfaces, and more work is needed to better understand how to reduce pathogen survival in feed or feed ingredients.
He listed several areas for future growth in the field of feed safety, including further development of diagnostic capabilities including sampling and testing, evaluation of the infectivity of viruses and better methods to do that, creation of resources for producers to better understand the value of biosecurity so they can make better economic decisions, and improvement of biosecurity methods to allow for practical implementation.
"Biosecurity is challenging," Gebhardt said. "It's expensive and takes time to do, which makes the employees doing it on a daily basis, they need to really buy into that concept to really incorporate it and implement it well, so we need to have effective training programs."