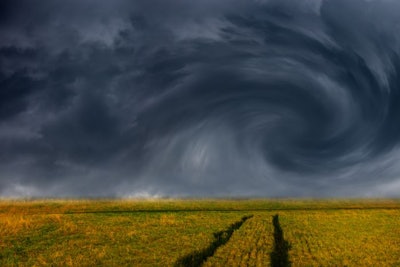 Tropical storm, hurricane approach the Southeastern states simultaneously, and agencies warn animal feed and livestock producers to be ready
As storms Marco and Laura approach the Southeastern U.S., the U.S. Food and Drug Administration (FDA) and the U.S. Department of Agriculture (USDA) are reminding livestock and animal feed producers of available preparation and recovery resources.
While Tropical Storm Marco weakened as it approached land, Laura has been upgraded to a hurricane and is expected to continue to strengthen.
According to The Weather Channel, Hurricane Laura is expected to strike the upper Texas or southwest Louisiana coasts late Wednesday or early Thursday.
"Life-threatening storm surge and destructive winds will batter the coast and a threat of flooding rain and strong winds will extend well inland," The Weather Channel said midday Tuesday. "A storm surge watch extends as far east as Ocean Springs, Mississippi, and as far west as Freeport, Texas. This watch includes Lake Pontchartrain, Lake Maurepas and Lake Borgne for areas outside of the southeast Louisiana Hurricane and Storm Damage Risk Reduction System. This watch means life-threatening inundation of water moving ashore over land is possible within the area in 48 hours or less.
"A hurricane watch extends as far north as Lufkin, Texas, and tropical storm watches extend as far north as the Interstate 20 corridor from near Tyler, Texas, to Shreveport and Monroe, Louisiana."
FDA, USDA resources available
On Tuesday, the FDA issued a reminder about available resources to animal feed producers who may be harvesting, mixing, storing or distributing grains and other foods for animals in the affected area.
"The FDA reminds harvesters that crops harvested from flooded fields are often unacceptable because of contamination," the statement said. "Flood waters, which are different from pooled rainwater, may contain sewage, pathogenic organisms, pesticides, chemical wastes, or other toxic substances. Mold growth is another serious concern for flood impacted crops intended for use in animal food. Some molds produce mycotoxins, which are toxic to certain animals and people."
The USDA said its staff is ready to help farmers and ranchers in the area, and reminded farmers of its Disaster Assistance Discovery Tool and its fact sheet on disaster preparedness for livestock.
"It's important to have a plan in place ahead of severe weather to protect your animals and livestock," USDA said in its fact sheet. "Pets, farm animals and livestock rely on their humans to protect them and keep them safe in all types of emergencies. The steps we take or don't take will directly impact their well‐being."