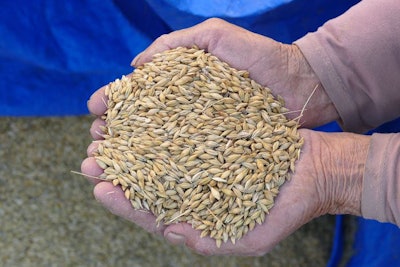 While Irish exports of agri-foods have chalked up a ninth year of annual growth, and the country's beef and pork have been granted access to the Ukrainian market, barley growers are furious that their grain remains stuck in storage.
The Republic of Ireland's arable farmers are expressing their frustration that livestock feed producers are favoring the import of grains from outside the European Union as dietary ingredients over home-produced barley.
"Many growers are left with stores full of barley due to the importation of feed ingredients," according to Mark Browne, chairman of the Grain Committee of the Irish Farmers Association (IFA).
Browne said Ireland imported 157,000 metric tons (mt) of grains (excluding corn) from outside the European Union in the month of January alone.
Not only does the trade mean shipping ingredients long distances, he said overseas grain growers may have different standards in relation to sustainability, the environment and genetically modified organisms (GMOs).
Browne called on stakeholders in the animal feed sector to stop undermining Ireland's arable farmers, and on the government and the Irish Food Board, Bord Bia, to support the inclusion of domestic grains in feed rations.
About 120,000 hectares (296,000 acres) of spring barley are sown in Ireland each year, and 87 percent of the grain produced is used in animal feeds, according to the Irish Agriculture and Food Development Authority, Teagasc. The rest of the crop is used in premium malting and roasting.
In February, it was reported that there was a shortage of animal feeds in Ireland. The situation was brought on by a prolonged period of drought in 2018, which halted grass growth and left farmers without adequate pasture or fodder for the winter.
More milestones for Irish agri-food exports
There have been positive developments for Ireland's livestock sector, according to the Department of Agriculture, Food and the Marine.
Agriculture Minister Michael Creed, announced recently that Irish agri-food exports increased last year — for the ninth consecutive year.
"The agri-food sector is Ireland's most important indigenous industry, playing a vital role in Ireland's economy. Irish food and drink was exported to over 180 markets worldwide in 2018," Creed said. "The sector employs 173,000 people, representing almost 8 percent of employment, and is particularly important in rural and coastal areas. 2018 saw another record year in both the value and volume of our exports, reaching EUR13.9 billion (US$15.6 billion)."
In 2018, Ireland was able to secure access to the Chinese market for beef, and shipped more than 1,400 mt in its first year.
This trade is expected to increase as the minister announced that an additional beef plant has been authorized for Chinese exports, bringing total authorizations to 12 — seven for beef and five for pork.
This month, Creed confirmed an agreement giving Irish beef and pork access to the Ukrainian market for the first time.