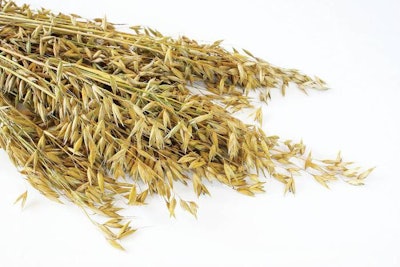 While its bottom line in 2018 was hit by a prolonged drought, Sweden-based grain company, Lantmännen has completed the acquisition of a specialty oat mill and manufacturing plant from British sugar concern, Tate and Lyle.
The plant, located in Kimstad in the municipality of Norrköping in southeast Sweden, has an annual processing capacity of 55,000 metric tons (mt) with a workforce of about 35 people.
For Lantmännen, the acquisition offers the opportunity to develop new products with oats as a raw material. Oats are a key crop in Swedish agriculture and for the cooperative's members, and the grains grown in Nordic countries are recognized for their high quality, and so are mainly used as food ingredients.
2018 profit hit by summer drought
As for other livestock and feed companies in northern Europe, last year's prolonged summer drought adversely impacted Lantmännen's annual results by reducing grain harvests.
Nevertheless, the firm's executives have described the performance in the 2018 fiscal year a "strong result."
After net financial items and adjusted for items affecting comparability, the firm turned in a result of SEK1.387 billion (US$150 million) in 2018, which compares with SEK1.552 billion the previous year.
The drought and high temperatures experienced during last summer particularly hit the firm's Agriculture division, whose result fell to SEK197 million from SEK337 million in 2017. While the grain harvest was down last year, demand for feed was particularly strong because of the lack of forage and feed grains on farms.
Combined with the high grain prices, a fall in the ethanol price in 2018 led Lantmännen's Energy division to perform less well than the previous year, while its Food business improved its performance.
Lantmännen made two key acquisitions during 2018. As well as Australian firm Bakery du Jour, the firm acquired Raisio's cattle feed business in Finland, which has since been renamed Lantmännen Feed.
The company's CEO and group president, Per Olof Nyman, said the 2018 drought had produced challenges for the firm, and that the effects will carry over into this year.
"In 2019, we need to continue to be both vigorous and flexible in order to meet the continued market challenges we anticipate following the 2018 drought," he said. "At the same time, we will take further steps in line with our strategy, to become an even better and more profitable company in the coming years – thereby strengthening our position as the Swedish farmers' best business partner."
Other Nordic companies whose latest financial results have been impacted by the 2018 drought are DLG of Denmark, Swedish-based poultry firm Scandi Standard and Finnish meat company Atria.