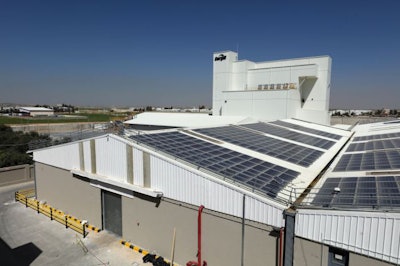 Cargill's animal nutrition business, Provimi Jordan, inaugurated a state-of-the-art animal nutrition premix plant in Jordan to provide safe, sustainable solutions to meet the changing needs of farmers and feed producers in the Middle East.
Cargill organized a ceremony on April 17, attended by nearly 400 customers and esteemed guests from across the Middle Eastern region, to mark the grand opening of the facility, which is valued at US$35 million.
With the global population projected to approach 10 billion by 2050, food demand is expected to increase by up to 70 percent. At the same time, farms and industries are going digital, and well-being and sustainability are growing in importance alongside performance. Rising consumer expectations about the sustainability and safety of food production will change the face of farming in the future.
Cargill's new plant is considered to be one of the most technologically advanced premix facilities in the world and has been designed to help customers meet the requirements of "farming of the future." With a production capacity of approximately 65,000 metric tons of premix per year, the factory deploys progressive safety and quality standards. Additionally, it features an advanced, whole-process barcode record management system, which ensures full-traceability from raw materials to finished products.
Divided among six levels and with 92 silos, the plant features three segregated production lines – each with its own set of specially designed containers, mixers and packing line – which greatly minimize the risk of cross-contamination. Combined with the adjacent world-class animal nutrition lab and a team of highly skilled nutritionists, this factory offers a unique platform for Cargill to partner with regional farmers and feed producers to improve farm and animal productivity and well-being, and promote sustainable farming practices.
"At Cargill, we strongly believe that only through partnerships with our customers can we create solutions to feed the generations of the future," said Waheed Al Totanji, commercial director of Cargill's animal nutrition business in the Middle East and North Africa. "We are excited to begin operations at the new plant here in Jordan as we continue to grow and benefit customers within the Middle East. With brand new facilities, an eco-friendly approach to energy supply partially through a solar power system, and an experienced team of local and global experts, we are ideally positioned to foster a safer and more sustainable food system in the region."
Guillaume Smeets, managing director of Cargill's animal nutrition business in the Middle East and Africa said: "At Cargill, we are deeply committed to the Middle East's livestock and nutrition industry. With the plant's innovative systems and exceptional nutritional and technical expertise, we are embarking on a new era for animal nutrition solutions in the region. Our two-pronged approach focuses on the development of the poultry, dairy and aqua industries, while building new capacities that add value and prepare feed and animal producers for 'farming of the future.'"