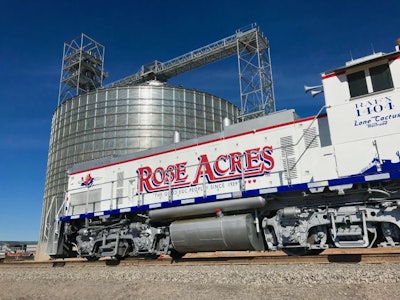 Rose Acre Farms has opened a new grain terminal and rail line at its Lone Cactus egg farm in Utting, Arizona.
The rail line, officially named Rose Acre Farms Tanya Cecil Grain and Railroad Terminal, connects to the Arizona & California Railroad, which interchanges with the BNSF Railway.
According to John Rust, chairman of the board of Rose Acre Farms, the planned operations include four grain bins with a capacity of 450,000 bushels each for a total capacity of 1.8 million bushels. The facility will handle grain, mostly sourced from Kansas and Nebraska, for feed that will be made at nearby farms.
Several officials spoke at the dedication and gala to celebrate the facility's opening. On more than one occasion, officials from Rose Acre Farms have praised the people of La Paz County and called them a great fit for the company.
Rose Acre's Lone Cactus Farm, located in La Paz County near Bouse, Arizona, is believed to be the biggest economic development initiative the area has ever seen. The farm recently was issued a Class II Air Quality Permit by the Arizona Department of Environmental Quality (ADEQ).
Rose Acre Farms — which is headquartered in Seymour, Indiana, and is the second largest egg company in the United States and third largest egg company in the world – broke ground on the Lone Cactus Farm in June 2015. Plans for the farm, according to the WATTAgNet Top Poultry Companies Database, included housing for about 3 million hens. As of December 31, 2017, the company had 26.9 million layers in its entire flock.