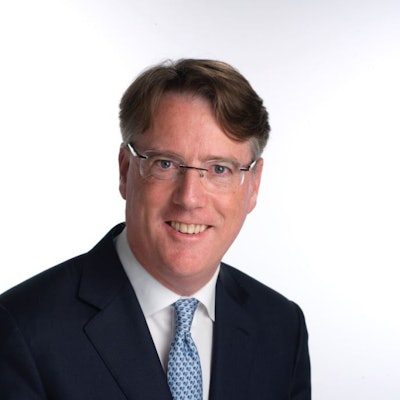 Aidan Connolly, Alltech's chief innovation officer, will leave the company by the end of November to pursue personal interests, Alltech said.
Connolly's resignation comes at the same time as the launch of his strategic planning book, "2143." Connolly also will expand upon his leadership and mentoring roles with ag startups, speaking engagements, teaching roles within MBA programs, and consultancy and advisory work.
Alltech said Connolly will continue to work and consult with the company on a variety of projects, including the Pearse Lyons Accelerator and ONE: The Alltech Ideas Conference.
The Pearse Lyons Accelerator was the brainchild of the late Dr. Pearse Lyons, founder of Alltech. The Accelerator, a late-stage, non-equity program, offers startups access to a network of executives who have, collectively, more than 100 years of leadership experience and domain expertise in agriculture. Participants also receive a EUR15,000 (US$17,000) stipend to cover day-to-day expenses, as well as software perks worth over EUR300,000 from companies such as Google, Facebook, Softlayer and Amazon.
"The Pearse Lyons Accelerator serves as the perfect vehicle to [create] visibility for us and our partners [with] the most disruptive ag-tech startups across the world," Connolly said in a press release. "A clear route to market remains a challenge for startups within the ag tech industry. The program provides accelerated access to the global market with a comprehensive package of support to help them navigate the challenge of scaling their operations to service large corporate customers."
Connolly has been a member of Alltech for more than 25 years, initially in Ireland and afterward in France, Brazil and the United States. From 2002 to 2008, he held the position of vice president of Europe for Alltech. He received a bachelor's degree in commerce from University College Dublin and a master's degree in international marketing from the University College Dublin Michael Smurfit Graduate Business School. In recent years, Connolly has organized Alltech's Global Feed Survey, its annual report gathers its data from international feed associations and more than 31,000 feed mills across 144 countries.