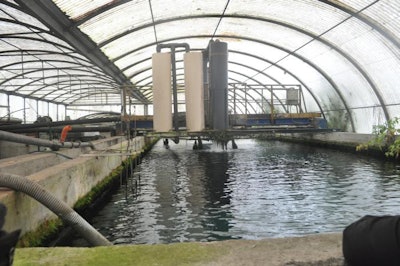 By 2020, Russia plans to become self-sufficient in aquafeed production. In 2016, Russian officials claim the country doubled its volume compared with 2015 to cut losses of fish farms purchasing foreign feed and ensure the long-term sustainable development of its aquaculture industry.
Over the past several years, dependence on imported aquafeed and seeding materials were two main factors hampering the rise of the aquaculture industry's production indicators, as explained by Irina Geht, deputy chairman of the Federation Council Committee on Agrarian and Food Policy.
To cope with this issue, in 2015 and 2016 the Russian Federal Agency for Fishery, or Rosrybolovstvo, allocated grants for several of the country's scientific organizations to design fish feed formulations, reported Victor Asharin, Rosrybolovstvo's Head of Aquaculture Department, adding that self-sufficiency on feed and seeding material for the most part should be achieved in three years.
Russia's aquaculture industry is on the verge of a boom. Government agencies have granted 3,700 sites across the country for companies under aquaculture projects, Asharin estimated. In general, the aquaculture industry became profitable, and recently adopted bills and government decrees made a legal framework transparent, he suggested.
All in all, inflow of investments into the aquaculture industry should drive demand for aquafeed.
By 2020, Russia's aquaculture production is expected to grow to 400,000 metric tons, or 45 percent compared with 2016, officials indicated, noting that over the next three years the demand for fish feed will rise accordingly.
State aid is promised
Investment projects for aquafeed production will benefit from government support, says the head of Rosrybolovstvo, Ilya Shestakov.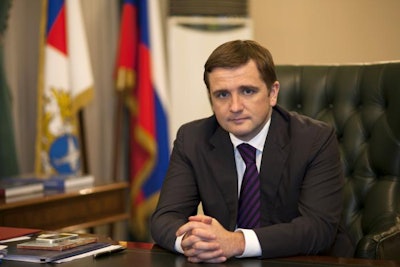 Ilya Shestakov, head of the Russian Federal Agency for Fishery, promised state support to the aquafeed industry. | Rosrybolovstvo
Shestakov did not specify in what form this support will be provided, but just as with aquaculture industry itself, most likely this means allocation of state aid. For instance, Russian government now is providing state subsidies for compound feed mills, producing feed for pigs, poultry and other animals in the form of reimbursement of capital spends and loan interest rates.
The same scheme has been engaged in the case of aquaculture facilities. According to Russia's Prime Minister Dmitry Medvedev, the federal budget has allocated RUB350 million (US$6 million) to this category.
Russia has no special program for aquafeed industry support, although some investment projects receive state aid on adjacent programs. However, so far government agencies are not disclosing information on how much money has been spent on these subsidies and when some certain mechanism for support of aquafeed facilities may be adopted.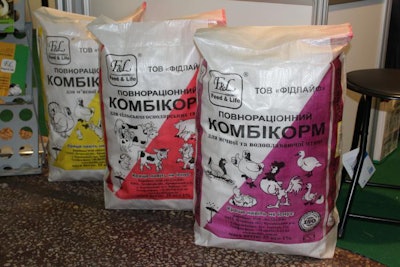 Russian feed mills use dry pelleting technology, which is good for poultry and pig, but not fit for fish. | FeedLaiv
Lack of raw materials
According to Shestakov, Russia's raw materials base makes the cost of manufacturing feed rather attractive for aquaculture companies; however, though Russia produces 75,000 to 90,000 metric tons of fish meal, supplies deficits pose a challenge Rosrybolovstvo hopes to overcome with a new program for fishing development.
The Russian government is taking measures to stimulate the construction of a modern fishing fleet with waste-free production. Fish waste could be used to solve the fish meal and fat deficit, Shestakov said.
At the same time, the potential of fish meal production is enormous as waste from commercial fishing now accounts for nearly 20 percent of the overall catch volume, Shestakov estimated. Russia is catching 2 million metric tons of pollock per year and volume of waste reaches 400,000 metric tons.
According to Alexandr Poletaev, spokesperson with the Fisheries Department of Primorsk Oblast, the fishing industry is a great resource, but cooperation between the fishing and aquafeed industry is hampered with logistics and technical issues.
Better quality is required
Quality is another problem with the aquafeed industry, the Agricultural Ministry reports.
Domestic fish feed is not suitable because of low nutrition values and unbalanced composition, widespread failure to comply with the formulation, falsification of basic components with cheaper analogues, high level of friability, and pellets with low water resistance, the Ministry says.
Virtually all feed mills in the country use outdated technology of dry pressing in the form of pelleting, with steam causing quality problems, Shestakov said. These technologies are not suitable for the most valuable and expensive aquaculture species, including salmon and sturgeon. In fact, there are very few mills in the country producing high-protein feed for industrial fish farming.
As explained by one aquaculture farmer who wished to not be named, there are huge and very obvious gaps in terms of quality between Russian and imported aquafeed. Prior to 2014, he had been importing feed from Europe, but with strong devaluation of the Russian ruble, he had to shift to Russia's suppliers. The inconsistent product resulted in several negative consequences, including reduced fish growth and high unexplained fish mortality.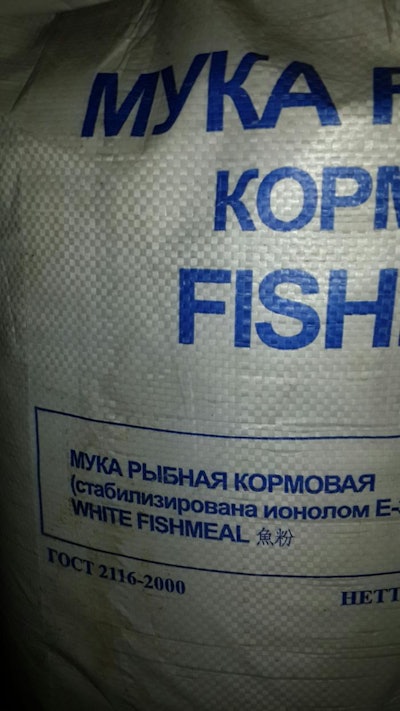 Russian aquafeed faces the problem of fish meal deficit. | Vladivostok
Growth seems to be inevitable
According to Rosrybolovstvo, Russia produced 110,000 metric tons of aquafeed in 2015, but actual demand in the domestic market was more than 200,000 metric tons. At the same time, feasibility of importing feed has been strongly reduced over the past several years because of devaluation of the Russian ruble and high logistics costs.
Russian analytical agency Soya News indicates that logistics issues raise the cost of imported aquafeed by 30 to 40 percent, while in case of delivery to Kaliningrad Oblast, by nearly 100 percent. As a result, Russian farms have to spend 65 to 70 percent of production cost for aquafeed; in comparison, Europe spends 25 to 30 percent.
Production of aquafeed in Russia is steadily growing with CAGR close to 8 to 10 percent, reports consulting agency MegaResearch. For instance, in 2016 Russia has produced 133,000 metric tons of feed, increasing this figure 8 percent compared with 2015. At the same time, in 2016 Russia has imported nearly 30,000 metric tons of aquafeed, 7 percent less compared with 2015.
Given projected growth of demand, the growth of Russia's aquafeed industry is inevitable; however, it is hard to predict if the challenges will hamper Russia's future in aquaculture.