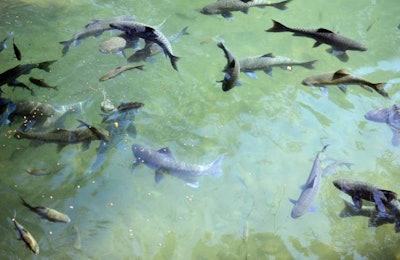 Feeds for aquaculture have acquired a deserved reputation as a fast-growing part of the world production of compounds by industrial mills. But any analysis of trends in the market needs to distinguish between the prospects for the different types of aquafeed.
Over 40 percent of aquatic feeding products at present are for carp since these are the most widely farmed fish internationally. About 20 percent are for tilapia, while shrimp and salmon account for another 20 percent. Most of the rest is fed to other finfish species.
These separate segments again showed diverging trends in 2015.
A look at the different aqua segments
Carp culture has expanded faster than carp feeding levels, and the production of shrimp feeds has yet to recover fully from the loss of market volume seen one to two years ago due to a disease issue that devastated production and trade.
Tilapia feed is set to be manufactured in more countries even as the global total stabilizes. By contrast, the feed output for salmon and trout keeps growing.
Market-watcher Kontali Analyse has suggested that the global quantity of the so-called salmonid feeds could rise from around 4 million metric tons in 2015 to about 5 million metric tons by 2020.
So far, Norway and Chile are the main producers of feeds for salmon and trout. Their combined share is estimated at between 75 to 80 percent. Yet some minor players, including Australia and Russia, still have ambitions to expand. Russia's federal agency for fisheries has supported regional plans to create salmon and trout farms as part of a campaign for national aquaculture production in 2020 to be double that achieved in 2013.
Tilapia trends
New entrants are also becoming a feature of the tilapia sector, with examples from Africa as well as Asia.
The history of aquafeeds for the sector has centered on the dominant position of China, until now the location for over 25 percent of all farmed tilapia. But China's own outlook is described as that of increasingly mature market with comparatively little further growth.
The expected expansion in the global total for tilapia feed output is more likely to involve relative newcomers or currently quite small operators such as India, Pakistan, Brazil and Mexico.