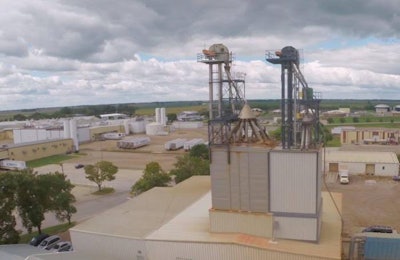 As government and consumer pressure has grown to produce meat and dairy products without antibiotics, Ralco Animal Nutrition has answered that call with a newly renovated feed mill in Marshall, Minnesota, that will produce only non-medicated products. The company will continue to produce medicated products at its other mills.
"The main reason (for the change) is customers like options, and with the push by a lot of folks (for) non-medicated-type feedstuffs, they want choices," said Dennis Conlon, vice president of operations at Ralco Nutrition, in an interview with WATT Global Media.
"The fact that we changed one of our state-of-the-art facilities into a drug-free option gives our customers options," he said.
Conlon said Ralco has four production facilities so the company has plenty of capacity to produce medicated and non-medicated products.
"Medications still play an important role in our industry," Conlon said, so "we'll continue to support customers needing medicated feeds as well."
However, he said he's aware that there is a growing customer and consumer demand for meat and dairy products that have not been treated with medications.
"There is definitely a progression in that direction," he said.
Increased efficiency, precision
In 2015, Ralco renovated the plant in Marshall, Minnesota, to include a state-of-the-art mixing system, packaging system and stacking system.
"For us, it was kind of a no-brainer," Conlon said. "Anytime you can introduce automation, it decreases the chance for human error."
The upgrade increased efficiency and precision well beyond industry standards, the company said.
"It was a night-and-day step up for us in terms of efficiencies," Conlon said.
Ralco President Emeritus Jon Knochenmus speaks in a video that highlights the upgrades: "We're always trying to improve our efficiency," Knochenmus says. "Efficiency and accuracy is the key to our success."
Ralco is a third-generation family-owned multinational company with distribution in more than 30 countries. A global provider of livestock nutrition, animal health products and crop enhancement products, Ralco supports large segments of the livestock, poultry, aquaculture and crop industries. The 44-year-old company was founded on a principle of feeding livestock as naturally as possible, while always understanding the important role medications and antibiotics play in treating sick animals. Ralco facilities are certified for HAACP, Safe Food Safe Feed, GMP+ and FAMI-QS.