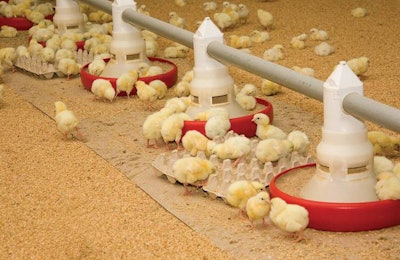 From WATTAgNet:
The past week brought us news about Cobb-Vantress, Chr. Hansen, Nutreco, broiler feeds, feed additives, and the FIAAP Animal Nutrition Conference.
---
Nutreco has completed the acquisition of Micronutrients, pending regulatory clearance. Micronutrients is a global leader in hydroxy-based trace minerals. The acquisition enables Trouw Nutrition, Nutreco's animal nutrition business, to further strengthen its Selko feed additives product portfolio.
Chr. Hansen Inc. will acquire Nutritional Physiology Co. (NPC), in an effort to further broaden its microbial platform and expand its presence into the beef cattle segment.
Reflecting the global interest in the elimination of antibiotics for growth promotion (AGPs) in livestock production, half of the presentations slated for the 2016 FIAAP Animal Nutrition Conference will focus on feed additive and ingredient solutions for supplementing and reducing the use of AGPs in animal feed formulations.
The role of immunity has revolutionized the way we think about animal nutrition. Indeed, there is sufficient data to support contrasting nutrition programs based on immunity, mostly thanks to pioneering work conducted at land-grant universities in California (poultry) and Iowa (pigs) in U.S.
Price should not be only criterion when you buy complete feeds for broilers; this short list will give you a tool to better evaluate commercial feeds.
Cobb-Vantress plans to begin construction on a new feed mill in Joanna, South Carolina early in 2016, with completion planned for mid-2017. The company intends to invest $22 million for the project. When completed, the new feed mill will create about 12 new jobs.