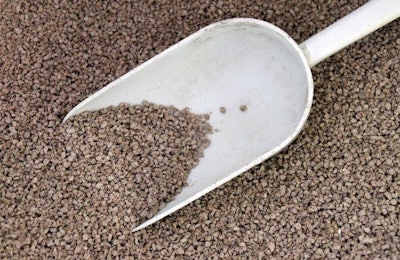 From WATTAgNet:
In 2014, global compound feed production rose by 1.6 percent in 2014 — in part driven by the growing volumes of the world's leading animal feed manufacturers.
101 animal feed companies produced 1 million metric tons or more of compound feed in 2014.
An analysis on www.WATTAgNet.com in September 2015 reviewed the regional growth of feed-producing companies and highlighted a few of the major developments with key players in 2014 and the first half of 2015:
When breaking down the regional makeup of companies, Asia accounts for the greatest representation on the Top Companies list, boasting 47 companies in total, 23 of which are located in China.

A broad look at the production developments by continent shows that Europe claims the second largest number of high-volume feed producers and North America ranks No. 3.

Sorting the information by country reveals that the United States possesses 11 of the top companies; Brazil, France, Thailand and Japan each have five companies in the top 101; Germany, the Netherlands and South Korea are each represented by four companies; and India and Denmark have three.

U.S. agribusiness giant Cargill bumped the New Hope Group out of the No. 2 position after the Chinese company saw a notable decline in its 2014 production volume.

Wen's Food Group (No. 5), China's West Hope Group (No. 26) and Easy Bio (No. 48) each report nearly doubling their production in 2014 over 2013 numbers.

Several multinational corporations increased their momentum on the world stage through major acquisitions, sales and mergers.
---
Analysis of regional growth of animal feed companies and major developments with key industry players in 2014 and the first half of 2015.