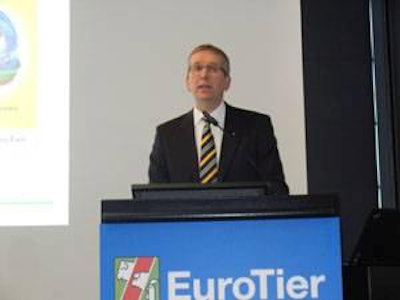 EuroTier 2012 opened on November 13 with a positive outlook for animal agriculture and feed, despite the current high feed prices worldwide. The show began with a record number of exhibitors from over 50 nations, with more than half the exhibitors from outside of Germany.
In the opening press conference, Dr. Reinhard Grandke, CEO of DLG (German Agricultural Society), said that DLG's research of 3,000 farmers across Europe shows that European farmers have a positive assessment of business conditions, with cash crop producers much more optimistic than animal producers, due to the sustained high feed prices. When asked about willingness to invest in production equipment, German and French farmers showed optimism, Poland less so, and Great Britain's farmers were the least optimistic of surveyed producers.
In addition to high feed costs, the reduction of antibiotic use in livestock husbandry is a topic of concern to European producers. Dr. Hans-Joachim Gotz, president of the Federal Association of Practicing Veterinarians, or BPT, said in Germany the declared political intent is to sustainably lower the quantities of antibiotics used in veterinary medicine, with similar considerations across the European Union. Gotz said this has to be achieved by improving animal welfare and avoiding illness by preventive measures such as vaccinations, improved hygiene, husbandry management and improved husbandry conditions. He said a comprehensive antibiotic monitoring system has been developed in the German poultry and pig finishing sectors under the BPT and German Farmers Union.
EuroTier 2012 is expected to bring visitors from around the world to Hanover, Germany, November 13–16.