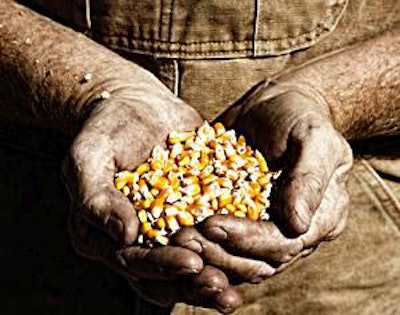 Coping with commodity prices is by far the largest hurdle that feed producers are facing at the close of 2012, no matter where they are located. However, throughout the world a number of feed companies are choosing to look beyond current drought conditions and are using the time to expand operations through mergers, capital expenditures and other initiatives.
Efficiency in Italy
The Veronesi Group is the largest animal feed producer in Italy. The first animal feed production plant belonging to the Group was built in 1958 by the family patriarch Apollinare Veronesi. An additional six feed-producing factories flank the one originally set up more than 50 years ago in Quinto di Valpatena.
Despite tough market conditions, in the past year Veronesi Group has succeeded in increasing its compound feed production by 2 percent to almost 3 million metric tons. The group notes that in the last five years, it has increased its production from 2.4 million metric tons to 2.965 million metric tons using the same seven plants – a feat accomplished entirely through efficiency initiatives.
Acquisition in Belgium
In 2011, the Belgian feed market grew by approximately 4.08 percent (over 2010) to 6,709,925 metric tons. Of that, the Aveve Group captured a market share of 21.29 percent, having increased its volume by 4.39 percent to 1,428,481 metric tons during that same period. The Aveve Group's increase was fueled in part by 71,200 metric tons from its French subsidiary Sabe, and also by an acquisition in Germany – Mischfutterwerke Mannheim.
In August of 2011, the Aveve Group acquired the former production plant of Muskator GmbH in Mannheim. The plant has an annual production capacity of 120,000 metric tons – 50 percent cattle feed, 20 percent pig feed, 20 percent poultry feed and 10 percent pet food (Ovator). In 2006, Muskator produced about 500,000 metric tons of feed in five plants and ranked 14th among the major German feed manufacturers. As part of the acquisition, the Aveve Group was allowed to continue distributing its feed on the southwestern German market under the Muskator/Ovator trademarks.
Investment, strategic agreement in Russia
Miratorg Agribusiness Holding is the largest pork producer in Russia, with its pig operations requiring approximately 720,000 metric tons of feed in 2011. Miratorg has already invested to increase its annual feed production capacity from 270,000 metric tons per year to 630,000 metric tons and is slated to open another feed mill, its third, before the end of 2012.
When the new plant is completed, Miratorg says it will be able to produce about 1.1 million metric tons of feed per year, which will make it the largest feed manufacturer in Russia. The company's current feed mills are in Ivnyanskom and Prokhorovka, which are located in the Belgorod region. The new mill will also be in Prokhorovka.
In Luxembourg, Sodrugestvo Group S.A. also made news this past year when it signed an agreement with Japanese trading company Mitsui & Co., Ltd. to become strategic partners in some of its business activities, with Mitsui becoming a 10 percent shareholder of Sodrugestvo. Although the cost of the shares has not been disclosed, it has been noted that the transaction was based on an enterprise value of $2.2 billion for Sodrugestvo.
According to information released by Sodrugestvo, the primary points of the partnership include an alliance in the origination, export and marketing of grain from Russia and other former Soviet Union countries; support for Mitsui's participation in the feed and livestock business in Russia; and a collaboration in the soybean origination, processing and distribution business in Brazil between Sodrugestvo's Alianca joint venture and Mitsui's Multigrain grain farming and logistics subsidiary.
Aqua expansion in Egypt
The Danish fish feed company Aller Aqua Group expanded its production outside of Europe for the first time this year by taking a 60 percent shareholding in Zoocontrol in Egypt. The re-named Aller Aqua Egypt intends to expand by building a second feed plant next to the existing Zoocontrol mill. Aller Aqua is a leader in feeds for freshwater fish in Europe with mills in Germany, Poland and Denmark. Until this year, the company exported products to other markets in the Middle East, Asia and North Africa.
Other recent moves by Aller Aqua include establishing a sales office in China and developing a presence in Norway, Europe's largest single aquaculture market. Zoocontrol remains owned by its founders, the Mansour family.
Building in the Philippines
In March 2012, San Miguel Foods began construction of a new feed mill in Villanueva, Mindanao. San Miguel Foods is the largest Filipino-owned feed company in the Philippines and currently operates 41 feed mills in the country.
The new mill is set to be operational by 2013 and will have a capacity of 60 metric tons per hour, which will make it the company's largest mill. According to Norman A. Ramos, vice president and general manager for San Miguel Foods, the new plant will give opportunities to local farmers who would be supplying 11,000 metric tons of corn and 5,000 metric tons of cassava each month.
Cargill expansion in Vietnam
Also in March 2012, Cargill Vietnam, a wholly owned subsidiary of Cargill Inc. USA, began construction of its ninth feed mill in Vietnam. The mill will have a production capacity of 240,000 metric tons per year and is slated to be operational in the latter half of 2013. The facility will bring the company's milling capacity to 1 million metric tons per year.
Located in Dong Van II Industrial Zone in Ha Nam province, the company has invested $18 million to create the facility. Once operational, it is expected that its output will help the company increase its market share of animal feed in Vietnam to 10 percent.
Investment in Thailand
Thai agribusiness integrator Betagro Group announced earlier this year that it will be investing in feed production in neighboring countries with an eye to market growth expected from the establishment of the Asean Economic Community trading pact, set to launch in 2015. Betagro plans on investing EUR7.33 million in feed, food and livestock businesses over the next five years.
One project Betagro has planned is a feed mill in Cambodia, which will be commissioned in early 2013 at an investment of EUR12.2 million. The mill will operate with a capacity of 12,000 metric tons per year, though Betagro has plans to increase its production to 24,000 metric tons as its Cambodian operations expand.
Expansion and investments from China
Activity is nearly constant in China, as a number of companies look to increase market share there. Da Bei Nong Group launched an ambitious investment plan at the beginning of 2012, which included RMB318 million for the acquisition, construction or expansion of production lines in five different cities – Shenyang, Kiamusze, Chongqing, Yichun of Jiangxi province and Chifeng of Inner Mongolia. According to the plan, a subsidiary of Da Bei Nong Group will purchase Shengyang Yingda Technology Co., Ltd. for RMB38 million. An additional RMB93.78 million will then be invested to bring the production capacity of the facility up from 60,000 metric tons annually to 240,000 metric tons of compound feed a year.
Other investments by the Group include RMB53.93 to establish a pig feed production line with a capacity of 12,000 metric tons per year in Kiamusze, RMB65.66 million for an 18,000-metric-ton pig feed production line in Chongqing city, and a 12,000-metric-ton production line in Yichun city and in Chifeng city.
Another company, the New Hope Group, China's largest feed producer, entered into an agreement earlier in 2012 with Japanese grain trader Marubeni Corp. to expand in Africa, the Middle East, Eastern Europe and South America. According to the company's website, New Hope Group has been expanding its overseas business in the face of fierce competition in the animal feed business in China. New Hope Group currently has 16 feed factories overseas and plans to add four additional plants annually, according to Tang Yong, a company director. Each overseas factory will have a production capacity between 100,000 and 200,000 metric tons.
The company has completed the construction of an animal feed factory in Egypt that will soon become operational, according to Tang. It will also begin work on a plant in Johannesburg, South Africa.
The profitability of New Hope's overseas business is strong, according to Jiang Xiaodong, an analyst with Huatai United Securities Co. Ltd. "Demand in Southeast Asian countries is increasing rapidly, but their animal feed businesses lag behind," Jiang Xiaodong said in a research note. "The company will quicken its expansion in overseas markets in the future."
Related stories:
Special report: Top feed companies, www.WATTAgNet.com/153436.html