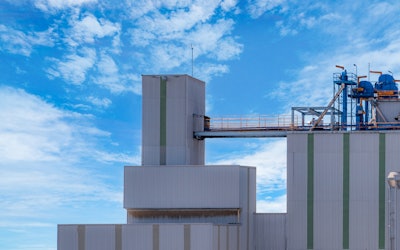 Fahroni | BigStock.com
Despite some objections, West Suffolk Council's Development and Control Committee look likely to approve plans for a new feed mill.
Planning for the facility near Bury St. Edmunds had been submitted by AB Agri Ltd. and British Sugar Plc, reported East Anglian Daily Times last week.
With an area of just over 19,000 square feet, the main building will house the production plant, raw material delivery areas, goods loading bays, warehousing, a maintenance workshop, offices and a control room. In addition, there will be a smaller mill building, and eight feed ingredient storage silos.
The plan looks likely to gain full approval, despite objections raised by local planners and the town council. These focused mainly on the appearance of a 50-meter tall tower and the substantial buildings near to the town and surrounding countryside.
Managing director for AB Agri UK Mono, Dino Kiriakopoulos, welcomed the Council's approval of the latest stage in the planning process.
He told Suffolk News that the new facility will build the company's business, provide new employment opportunities and support local farmers with affordable, locally produced animal feeds.
Seventy well-paid new jobs will be created through the firm's investment of GBP75 million to GBP80 million (US$95 million to US$102 million), he said.
A final decision by the Council will be made at a forthcoming meeting, after its consideration of a risk assessment report.
More on AB Agri
With annual feed production amounting to almost 2.23 million metric tons, AB Agri is just below the Top 10 feed companies in Europe in terms of output. This is according to Feed Strategy's Top Feed Companies latest survey for the region.
This source indicates that AB Agri is the largest feed producer in the United Kingdom (U.K.).
According to AB Agri, the company was founded in the U.K. in 1984, and has since expanded with a workforce of more than 3,000 across the world.
The firm operates across the entire food industry supply chain. It produces and supplies compound animal feeds, feed enzymes, specialized feed ingredients, and a range of value-added services to farmers, feed and food manufacturers, processors, and retailers.
This year, a planned strike by some AB Agri workers was averted after an improved pay offer.
Two months ago, the firm acquired dairy research and consulting company, International Farm Comparison Network AG, which is based in Kiel, Germany.