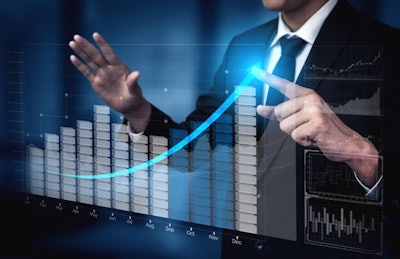 Agribusiness, vitamins and minerals segment contributed to 63% of revenue, which was up 30% from the previous year
Danish agribusiness firm DLG Group reported record revenue for fiscal year 2022, the company announced on February 8.
The company reported revenue of DKK80 billion (US$11.56 billion), a 30% increase from the previous year's DKK59 billion. For the first time, profit after tax topped DKK 1 billion. DLG will distribute DKK252 million to its Danish members, a 46% increase from 2021.
"We cannot but be satisfied with our results for the year. Our three business areas all serve fundamental needs in society, which creates a stable demand. This goes some way towards explaining why we successfully navigated 2022, which was a challenging year in many ways," said Group CEO Kristian Hundebøll. "Like other companies, we've been faced with rising costs of energy and raw materials, requiring us to continuously adjust our costs. As is clear from our financial ratios, we have succeeded in further boosting the group's robustness, making sure we're geared to meeting any market challenges that may come our way."
The company said it improved its financial ratios through strict risk management and focus on capital consumption, delivering a satisfactory return on invested capital, despite considerable market volatility.
DLG's main market, Germany, made a significant contribution to these results, with revenue of DKK53 billion.
Food group accounts for 63% of total revenue
Food, which comprises the group's agribusiness and its vitamins and minerals business, is the group's largest business area. With an increase in revenue to DKK50 billion in 2022, food accounted for 63% of the total revenue. EBITDA was DKK 1.6 billion, representing an 18% increase compared with 2021.
The company's agribusiness activities generated growth in all main markets in the Baltic Sea region, including Germany, but results were extraordinarily good in the Danish and Swedish markets as well as in the Baltics. This is attributed to a good harvest and a very good year for crop cultivation.
Sales of feed for cattle and poultry were at a "satisfactory level," while sales of pig feed declined due to the difficult market conditions for pig producers.
Vilofoss, the group's vitamins and minerals business, delivered stable results on par with 2021, which saw increasing sales in the U.S., Eastern Europe and the Middle East.
"Food is the strong backbone of our business, and is delivering really impressive results. Considering the tense geopolitical situation, and the resulting highly fluctuating and uncertain market conditions and supply situation seen during the year, we're pleased to be reporting growth on all parameters," Hundebøll said.
Shortly after the Russian invasion of Ukraine, DLG ceased all commercial activities in Russia, which also meant a stop to imports of raw materials such as non-GM soybean meal, beet pulp pellets and sunflower meal, which used to form part of DLG's feed mixtures. In addition to a write-down of DKK87 million as a result of DLG's withdrawal from AV Nutrismart in Russia, the decision brought increased costs for DLG due to the cancellation of contracts and having to procure raw materials from countries where prices are higher.
"We've focused not only on making the right business decisions, but also on making decisions in line with our values. We do not want raw materials from Russia to end up in our feed mixtures, and we're quite adamant about this," Hundebøll said.
According to Feed Strategy's Top Feed Companies database, DLG Group produced 3.9 million metric tons of feed in 2021.