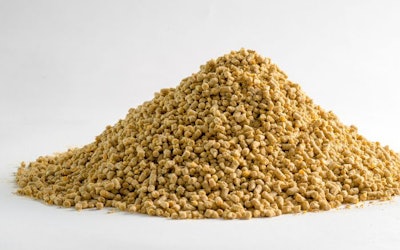 Storm Lake, Iowa, facility will serve its prepared foods division
Tyson's new feed mill for its turkey complex in Storm Lake, Iowa, has been completed and a ribbon-cutting and flag-raising ceremony held, according to reports.
The feed mill has been in operation for six months and adds 69 acres to the complex, which includes grow-out facilities, a research farm and a processing plant, Storm Lake Radio reported. The feed mill serves Tyson's prepared foods division and produces feed with locally produced corn and soybean meal.
"We're running full capacity, we've got three full shifts. It's just been the best thing that we've done is open up a new feed mill here," said Joe Hedden, Tyson's association director of live operations in Storm Lake. "It gives us some great opportunities to help with the bird quality and animal welfare and just, overall, it was a great decision."
The flag-raising ceremony honored the American and Iowa state flags, as well as the 22 countries of origin of the complex's local team members.
"We wouldn't be here today without the team members that are dedicated to making a difference and help show how much good we can do with food. We are dedicated to becoming the most sought-after place to work, and that begins on the ground, in our communities, with our team members," said Noelle O'Mara, Tyson's Prepared Food Groups president.
In 2020, Tyson Foods announced plans to tear down an existing turkey feed mill in Storm Lake to construct a newer one. At the time, the company said the US$37 million investment would create 15 new jobs.
Tyson Foods told WATT Global Media in 2021 that the Hillshire Brands Co., a subsidiary of Tyson, would open a new US$50 million feed mill in January 2022 for its Storm Lake, Iowa, turkey complex that will produce 600,000 tons of turkey feed annually.