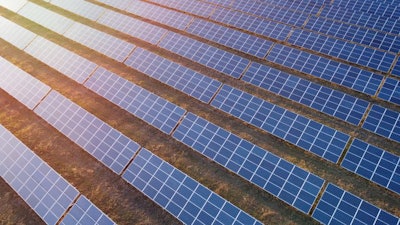 3.06 megawatt project will save on energy costs and contribute to the company's sustainability goals
Pork producer The Maschhoffs has broken ground on a 3.06 megawatt solar array at its feed mill in Griggsville, Illinois.
Construction on the project, which encompasses 6,800 ground-mounted, fixed-tilt solar panels on 11 acres, will begin immediately and is expected to be fully installed and generating power by October 2022. The Maschhoffs anticipate first-year energy savings of US$320,000 and 25-year accumulated savings of more than US$11.3 million, according to a press release from Solential Energy, who has been selected to design, build and commission the project.
The solar project will offset rising energy costs and satisfies The Maschhoffs' sustainability goals.
"In 2022 alone, we've seen our energy costs increase significantly, severely impacting our operating costs and threatening our competitiveness as well as the state of Illinois' US$1.1 billion pork producing industry," Chairman Ken Maschhoff said in the press release. "Adopting renewable solar energy to offset rising energy costs is strategically necessary. The Maschhoffs have always been innovators, and we embrace the opportunity to transform our operation through more sustainable practices, take control of our energy production and costs, and do our part in reducing the carbon footprint of our operations."
The Griggsville Feed Mill is the main feed facility for The Maschhoffs, which processes 300,000 tons of feed that accounts for roughly 25% of the 1.4 million market hogs and feeder pigs the company raises each year.
"Our grain operations are critical to animal care, overall health and pork production," said Vice President of Support Operations Gerry Daignault. "Energy availability and resilience are critical. Any interruption in power or loss of heat can alter the chemistry of our feed, which in turn impacts the growth of our animals and profitability of the business. Adding solar to our energy equation allows us to continue to optimize our grain processing and get the best feed to our animals without the stress of higher energy costs."