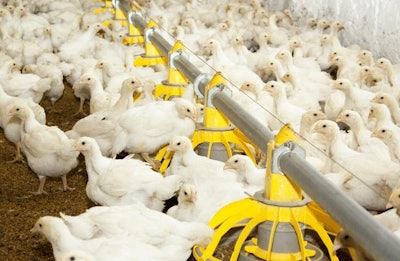 Facility will produce up to 12,500 tons of finished poultry feed per week
Koch Foods has opened a new poultry feed mill and grain storage and distribution facility in Attalla, Alabama.
The company said the new US$60 million feed mill would create 32 jobs with an annual payroll of US$1 million. The facility, located on a rail line, will service 100 railcars every two weeks and produce up to 12,500 tons of finished poultry feed per week. The 130-acre facility supports more than 200 poultry farmers across 10 counties.
"We announced this project in November of 2019, and to bring it to fruition on time during a pandemic speaks highly to the cooperation of all those involved — the Koch employees, the contractors, the state, the city and all the local agencies," said Mark Kaminsky, chief operating officer of Koch, in a report. "It is this cooperation that has led Koch to invest over $400 million in Alabama over the last five years."
In June 2020, Koch was awarded a US$200,000 grant for the facility.
"At the beginning of this journey, we committed to employ 28 people," Kaminsky said. "We currently employ 32 at this particular facility. We committed to spend a little less than this, but we ended up spending closer to US$60 million on this facility.
According to Feed Strategy's Top Feed Companies database, Koch Foods produced nearly 3 million metric tons of feed at its five feed mills across North America in 2020. It is the world's sixth largest poultry producer and the second largest in the U.S., according to WATTPoultry's Top Poultry Companies database. In 2021, the company slaughtered 655 million birds. Koch Foods employs 14,000 people.