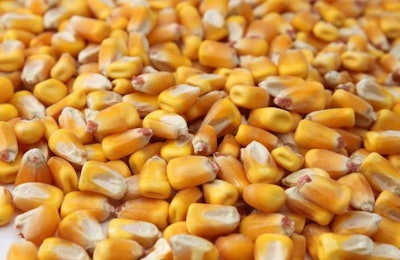 Philippine Association of Feed Millers Inc. urges government to address need for a reliable and consistent supply of corn
The Philippine Association of Feed Millers Inc. (PAFMI) has asked the government to address the need to ensure a reliable and consistent supply of corn and to review its tariff structure.
According to a Manila Bulletin report, the local supply of yellow corn in recent years has fallen 48% short of requirements. PAFMI said a reliable and consistent supply of corn is crucial to boost local production of animal feed, human food and biodiesel.
"This can be achieved by coming up and immediately implementing an inclusive, comprehensive, and sustainable corn industry development program," PAFMI said.
A policy program is needed, PAFMI said, to address corn production concerns, as well as post-harvest facilities, credit, warehousing, marketing, transport and other logistics concerns.
"PAFMI vows to support all measures needed to improve the country's corn supply sufficiency, reliability and consistency given the strategic role corn plays in ensuring the country's food security and in keeping vibrant economic activity," PAFMI said.
Review of tariff structures
PAFMI has also asked the Philippines government to review the tariff structure on yellow corn to prevent more cost increases.
According to a separate report from the Manila Standard, the prices of local and imported feed corn are approaching record highs and contributing to higher food prices.
"Tariffs are supposed to protect local corn growers, but with the significant supply gap, feed millers need to import more corn to supply the requirements of livestock growers," the report said. "The country's yellow corn importation is now more than what is locally available and has a more significant impact on consumer foods."
The Philippines has a three-tiered structure for corn tariffs: 5% from imports from countries in the Association of Southeast Asian Nations (ASEAN), 35% for imports categorized under the country's minimum access volume (MAV) commitment under the World Trade Organization and 50% for imports over MAV.
"With the current tariff structure, imported corn from non-ASEAN countries is bloating the Philippines' import costs to unrealistic levels. This situation is aggravated by the tight demand for corn in the world market that has caused prices to escalate," the report said.