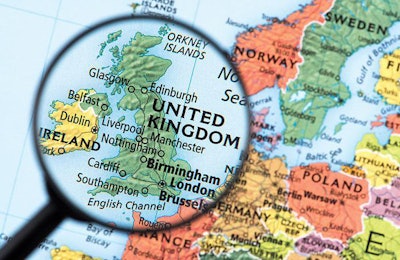 Facing mounting losses, producers of livestock feeds in Great Britain have called for ministerial help to resolve barriers to trade with the rest of Europe and Northern Ireland.
After the departure of the United Kingdom (U.K.) from the EU at the end of December 2020 (Brexit), any number of small administrative difficulties were to be expected.
Six weeks later, the main issues highlighted by the livestock feed industry are no nearer resolution, according to the trade body Agricultural Industries Confederation (AIC).
Last week, the organization called on Minister for the Cabinet Office Michael Gove for government intervention to help remove obstacles to trade.
"After a month of trying to achieve technical solutions to the export problems faced by feed businesses, it is clear that this issue cannot be resolved without political intervention," said AIC Chief Executive Robert Sheasby.
Effective trade bloc
AIC says that British companies are unable to dispatch certain products to their customers in the EU or in Northern Ireland. Small enterprises and multinationals are equally affected.
As a result of the implementation of the EU-U.K. Trade and Cooperation Agreement that came into effect immediately after Brexit, British feed companies have been losing revenue. Mainly impacted are those firms that export feed ingredients and finished feed to the EU and Northern Ireland. Furthermore, the challenges are also raising costs for their customers.
According to Sheasby, the situation is most problematic for feeds containing animal byproducts such as milk powders, gelatin, collagen, hydrolyzed proteins, eggs, dicalcium phosphate, chondroitin and glucosamine.
Prior to Brexit, feed companies were informed that there would be no requirement for an Export Health Certificate (EHC) to accompany consignments of these materials to the EU or Northern Ireland.
However, in his letter to Gove, Sheasby says EHCs are required after all. Yet there is no appropriate certificate for these companies to use. Furthermore, British suppliers have not yet been approved by the EU for the supply of these ingredients.
Exacerbating the situation is that each EU member state has introduced a different process for feed imports, he said.
AIC called on the minister to raise these issues with the European Commission urgently so that the situation can be resolved.
One month ago, the AIC warned that the hastily agreed EU-U.K. trade deal could have considerable impacts on the feed sector.
Among the complications is that the U.K.-EU border is now in the Irish Sea. This leaves Northern Ireland — which remains part of the U.K. — sharing a land border with the Republic of Ireland and, therefore, still attached by geography to the EU.
Last week, the deadline was extended for the provisional application of the EU-U.K. Trade and Cooperation Agreement (TCA).
Originally scheduled for the end of February, the European Commission has adopted a proposal to an extension until April 30. Reason for the change is the need to complete legal revisions in 24 languages prior to agreement by the European Parliament and European Council.