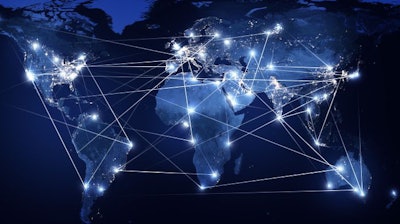 Discover the ways the pandemic has altered the way feed industry vendors do business and what they've learned.
In the business-to-business space, the absence of one-on-one interactions has been one of the greatest shocks and causes for adaption in 2020. And, for many, no void has been felt greater than the cancellation and pivoting of staple live industry events to virtual platforms. In the feed, poultry and meat industries, when many of us would be in Atlanta this week, the reimaging of the 2021 edition of International Processing & Production Expo (IPPE) into virtual 2021 IPPE Marketplace Week was a welcome additional to this year's event calendar.
Beyond making do without live-event business and lead generation during the COVID era, how companies bring their products to market in general has changed too. To discuss the "new normal" and related professional challenges, Feed Strategy asked IPPE Marketplace exhibitors:
How have you adapted the way you sell, educate and serve your customers in the absence of in-person interactions?
Nathalie Melis, marketing, KSE Processing Technology: "We did our very best to service our customers as normal, while protecting the health of everyone involved. KSE highly values its 24/7 support to customers around the world. Our service employees remain available to provide remote assistance and advice as usual. We work with local agents around the world who are often able to provide local support. We have made a lot of use of video call apps as a temporary alternative to in-person meetings. Other than that, we have participated in a few digital trade shows. Because in-person events are not likely to return until Q3 of 2021, we are working hard on strengthening our online presence. And starting next month, we will also launch or monthly webinar program."
Karl S. Arnold, vice president, sales and marketing, Insta-Pro International: "Absent of trade shows and face-to-face customer meetings, typically used selling technical capital goods, COVID has forced use of new methods and efficiencies. This disruption provided a unique opportunity to lean into technology, such as Microsoft Teams and Zoom, becoming an effective "next best way" to fill these voids. Our major challenge was not being able to provide on-site commissioning services for equipment purchased by our customers. Again, we leaned into technology to provide virtual technical services. Though not a replacement to on-site services, it's allowed customers to become operational sooner."
Troy Lohrmann, president & CEO, Quality Technologies International: "[We have] succeeded in great part due to our customer interaction from our sales team, as well as on-farm visits from our veterinarians, nutritionists and microbiologists. That model has been challenged by the pandemic. Once we realized that the shutdowns of last spring were not going to be short-term, we quickly adapted to select and safe on-farm visits as customers desired and permitted. But we also learned the power of virtual visits and increased our emphasis on phone or video conversations. This approach has been successful beyond what we might have initially expected. We still miss and look forward to our normal in-person interaction during personal visits and meetings, trade shows and conferences. But for now, we've adapted to new means of helping our customers as they need when problems arise, or they need our expertise."
Ryan Dietzenbach, sales manager – Roskamp Champion, CPM: "CPM adapted to the challenges of 2020 by embracing virtual meetings and digital touchpoints, as well as enhancing our technical webinar series. Most importantly, we learned that because our customers are essential businesses, CPM is essential too. We took steps to make sure we had technical experts available for site visits at our customers' request, in compliance with strict safety protocols, including quarantine requirements. More than ever, we've tapped into the breadth and depth of our team's expertise to keep our customers up and running."
Dave Taylor, area business manager – feed, Americas, Borregaard: "The main impact that COVID has had on our customer interactions is that it has limited face-to-face visits, as it has for everyone. Although we have been able to continue servicing and helping existing customers, it has limited the amount of prospecting that can be done. Where there is existing trust, it is easier to handle concerns/issues through a phone call, a video conference call or an email 85% of the time. The few customer issues that require an in-person visit are much more coordinated and controlled than they were before to ensure the safety of both the customer's employees, and the Borregaard visitor."
Jim Holliday M.Sc, vice president – animal health and area country manager – North America, Chr. Hansen Inc.: "We've embraced a significant increase in virtual touchpoints with our customers and prospects. Aside from improving on the basics of offering and executing a virtual event, we've had to key in on the most specific details of our customers' needs to ensure that the time they spend with us virtually is value adding. Ultimately, we hope that the future allows for in-person interactions where we can blend the best of both approaches to best service our customers."
Franz Waxenecker, managing director, BIOMIN: "Since the start of the global pandemic, we have challenged ourselves to deliver on the BIOMIN promise of customer-centricity in new, largely digital ways. That means conducting technical webinars on key industry topics with thousands of attendees since March, as well as shifting our customer support to video calls with technical experts. It also means delivering data-driven, relevant insights that add value for customers e.g. the predicted mycotoxin contamination levels of crops in their area, so that they are better prepared to mitigate the mycotoxin risk."
Saskia Korink, CEO, Trouw Nutrition: "Collaboration and communication has always been part of how Trouw Nutrition works with customers around the globe. When the pandemic struck, the challenge was to quickly change the channel – or rather the platform where education, communication and collaboration takes place. Following are some initiatives, including virtual tours and ribbon cuttings, global and local webinar series, event observances and special content creation, celebrating case study success, co-creation initiatives, and customer touch-base calls."
Read more from IPPE 2021 Marketplace.