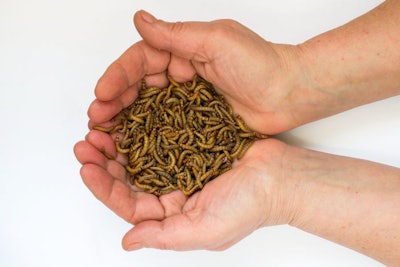 As new guidance is published for the production of insect proteins, French-based technology firm, Ÿnsect, has raised US$125 million (EUR110 million) to scale up production by investing in new facilities in Amiens, France, with the view to expansion in international markets, including North America.
In what Ÿnsect claims to be the largest ever ag tech investment outside the United States, the firm's leading partner is Astanor Ventures. Established international funds providing backing include Bpifrance, Talis Capital, Idinvest Pertners, Finasure and Compaginie du Bois Sauvage.
The latest investment will allow Ÿnsect to invest in a new production facility in Amiens, France, as well as opening an additional facility in North America.
The firm's largest farm has a production capacity of about 20,000 metric tons of protein per year, in terms of high-quality ingredients for fish and pets, as well as organic plant fertilizers.
Original aim of Ÿnsect founders Antoine Hubert, Jean-Gabriel Levon, Alexis Angot and Fabrice Berro in 2011 was for the firm to become a global leader in the market of alternative protein sources at a time when global protein consumption was forecast to rise by 52 percent between 2007 and 2030.
Ÿnsect subsequently identified the mealworms of the beetle family, Molitor, as an insect that could be raised on a large scale to deliver the protein meal, ŸnMeal, which can be included in feeds for aquaculture species, shrimp, salmon, trout and sea bass.
The fully automated process also results in a coproduct from the larval casings, ŸnFrass, which is an effective fertilizer, according to the company.
Now CEO and chairman, Hubert highlights how Ÿnsect's highly scalable and pioneering technology has international potential.
"Enabled by deep tech, the entire production process – from feeding to controlling the health and welfare of our insects, and from the sensors used for quality control to harvesting mature insects – is automated," he said. "We have 25 patents covering our technology, the products themselves and their different applications, giving Ÿnsect the world's largest insect patent portfolio. But, ultimately, we need scale to have a significant impact globally, which this investment will allow us to achieve."
The firm aims to give insects back their natural place in the food chain, according to Hubert, helping to feed 2 billion more people by 2050 while alleviating depletion of natural resources such as wild fish stocks, water and soil.
Ÿnsect now employs more than 100 people, and has been running a demonstration unit in France since 2016, where the firm's technology has been developed and foundations for future international expansion have been laid.
New guidance for insect protein producers
A new guidance document on best practices for quality and hygienic insect production was recently published by the European organization for the insect protein sector, the International Platform of Insects for Food and Feed (IPIFF).
"Pending discussion and endorsement by the European Commission and national authorities, the document may constitute a useful tool for all insect-producing companies or those who intend to engage in insect production to implement EU food and feed regulations," said Antoine Hubert, who is also IPIFF president.
In 2018, the European Commission (EC) was considering the use of insect protein in feeds for poultry and pigs as early as this year. This development would come after the EC's authorization of some types of such products in aquaculture feeds in July 2017.
Despite some initial hesitation, research and approvals of insect meal use in animal feeds have made advances.
Further expansion in the insect protein sector in the European Union is being held back by regulatory restrictions and a failure thus far to reach critical mass, according to a recent article in Feed Strategy.