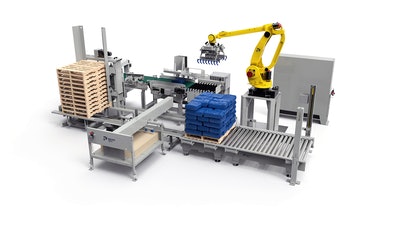 From touch screens to electrical controls to four-column palletizers, automation in the feed industry is streamlining production and improving worker safety in feed mills small and large across the U.S.
Manufactures and dealers are consistently listening to the feed industry to meet their needs — whether that is an increase in servos and less use of compressed air, robotic palletizers or complete robotic systems that "talk" to each other. How the machines operate has remained very much the same, but how they utilize technology keeps on improving.
American-Newlong president and general manager Gary Wells says that the amount of opportunities for utilizing technology in the U.S. has expanded since 1986 when he sold the first Fuji robot.
"Robot prices keep coming down, and feed mills are getting more and more for the same amount of money," he says. nVenia (formerly Hamer-Fischbein) national sales manager Brandon Bollig agrees: "Technology has come so far, and there is so much familiarity in the industry — nine out of 10 businesses are taking advantage of automation."
Meeting the need for labor
More importantly, robots provide the feed industry with a solution to a growing issue — a shortage of labor. Robots, such as the palletizer, take care of the hard-to-fill job of lifting bags that many people don't want to do. "The small farmers and the mills have 50, 80, 100 pound bags — and they can't find people that want to lift these bags," Wells says. The robot never comes into work late, and it works at a consistent pace.
The national average for a workers' compensation claim can cost around 30 percent of the cost of a robot.
"Labor is a daily issue for feed mills," says nVenia eastern regional sales manager Jeff Conrad. "It used to be an employee stacked bags for his career — now the tenure of that person stacking bags is three to six months."
Automation eliminates the need for manual labor and reduces the risk for injury. The fewer number of employees handling heavy bags means a company will hopefully have a lower number of work-related injuries. The national average for a workers' compensation claim can cost around 30 percent of the cost of a robot.
Stringent safety measures are taken to ensure that employees are safe when the robots are operating. All robots are sold with complete safety devices, such as curtains and gates, to prevent employees from entering the area of operation. Training is also provided on how to properly set up, operate and maintain the robots before they are put to work in the mill.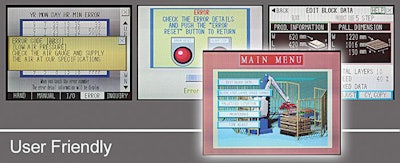 All programming is done on a touch screen located on the palletizer. The touchscreen is used to plug in sequences, troubleshoot and for maintenance. | American-Newlong
Opportunity cost for all feed mills
On average, Conrad believes feed mills can see a 20 to 25 percent increase in production by utilizing automation, like a packager or conveyor: "The automation sets the pace. If you're filling a specific number of bags a day — that's how many bags you'll have at the end of the day." In contrast, the number of bags that employees fill manually can fluctuate throughout the day — decreasing efficiency.
While there is sometimes a fear that robots are taking away jobs, Wells explains that it is more of an opportunity cost for feed mills. "Robots are doing the jobs that people don't want to do and don't want to get hurt doing," he says. Instead of manually stacking bags, employees now have time to do other work, such as operate the machines. This allows more work to get done around the mill. For small farms, automation allows the owner to focus on making feed or making sales instead of spending time filling and stacking bags.
Operating a robot can also be more appealing to today's generation that is more tech-savvy and schooled in using touch screens and computers. "We design our robots to be simple to operate and maintain," says Bollig. "This makes it easy to train people on how to properly operate the machines." The machines utilize the Allan Bradley RS Logics platform, a common platform for programming. Most maintenance staff have experience working with this platform, which reduces the need for specialized maintenance training.
In addition to robotic palletizers, feed mills also have the option to invest in a palletizer with end-of-arm tooling. The end-of-arm tooling allows the operator to square and compress layers. "The end-of-arm tooling builds a better stack and also has the ability to run several different types of bags on one machine," says Steve McEachron, Bratney Companies' Midwest sales manager and Concetti product manager .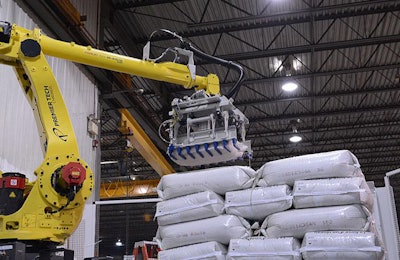 A wide variety of end effectors can be attached to the robots to handle different materials and products. | Premier Tech
Increasing focus on total system changeovers
Although many feed mills start out with one robot, such as a palletizer, it is very common for them to invest in more automation down the road, says McEachron. He says that around half of Bratney's sales are complete systems.
"The complete system incorporates everything, such as the packaging, sewing and printing," McEachron says. With this complete system, the operator can pull up a specific recipe and automatically change the entire line in less than two minutes.
Continued advancements
While there is an upfront investment, robots are built to last a good 25 years of hard industrial use. It's also important to note that feed mills are not limited to using one specific brand of robots to build a complete system — a robotic packager of one brand will work with a robotic conveyor made from another brand.
As technology progresses, feed mills can expect to have faster and better automation that streamlines the packaging process to continue to meet worker safety standards and surpass production goals.
Editor's note: This article has been updated. It originally ran in January 2017.