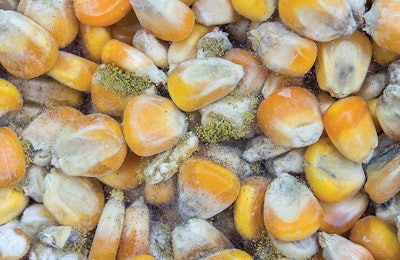 Adisseo's 2018 Mycotoxin Survey found that almost half of corn and silage samples taken in the U.S. were contaminated with zearalenone (ZEN) and more than 70 percent were contaminated with deoxynivalenol (DON), making the 2018 U.S. corn harvest of medium quality in terms of mycotoxin contamination.
The survey included 75 corn and corn silage samples from across the U.S.: Iowa, Illinois, Nebraska, Minnesota, Missouri, Kansas, Indiana, South Dakota, North Carolina, Pennsylvania, New York, Wisconsin, Idaho, California, Texas and Ohio. All samples were collected almost immediately after harvest from farms or animal feed production sites. Samples were tested for the occurrence of 11 mycotoxins most commonly found in agricultural commodities intended for animal production: aflatoxin B1 (AfB1), aflatoxin B2 (AfB2), aflatoxin G1 (AfG1), aflatoxin G2 (AfG2), ochratoxin A (OTA), ZEN, DON, T-2 toxin, HT-2 toxin, fumonisin B1 (FB1) and fumonisin B2 (FB2). Samples were analyzed using liquid chromatography tandem mass spectrometry.
Analysis results
The results showed that 49 percent of silage samples and 20 percent of corn samples were contaminated with ZEN, at levels considered to carry a high risk and especially harmful to dairy cows and herd bulls.
Eighty percent of silage samples and 73 percent of corn samples were contaminated with DON, with the highest concentration detected in one of the corn samples approximately 10 times higher than the highest concentration detected in silage.
Fifty-seven percent of corn and 42 percent of silage contained FB1. High concentrations of FB1 is usual for corn grown in the U.S. and may have an effect on the health and performance of animals, particularly swine and horses.
Only 3 percent of samples had low levels of AfB1. Few silage samples contained T-2 toxin (3 percent) and HT-2 toxin (2 percent). OTA was not detected in any samples.
Several samples had two to four mycotoxins detected, which could lead to synergistic interactions. Forty-nine percent of samples were contaminated with two mycotoxins; 23 percent with three mycotoxins.
The average concentrations of mycotoxins were medium to high. However, the maximum concentration of DON was slightly higher than the maximum regulatory and advisory level for dairy cattle.
In conclusion, the 2018 U.S. corn harvest was of medium quality and should not be automatically considered safe for inclusion in finished feed rations for all animal species. A degree of vigilance is prudent.