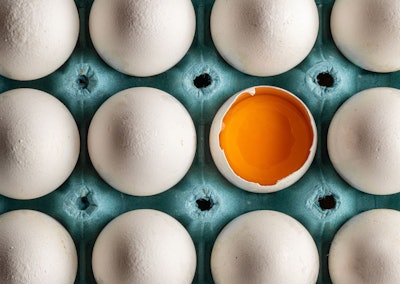 Kim Livingston, nutritional immunologist at Optum Immunity, discusses the science behind Cosabody, a new poultry nutrition product she will present at the 2022 Poultry Tech Summit, held October 30-November 1 in Atlanta, Georgia.
PODCAST: New egg yolk feed additive bolsters chick health (6:17)
Ann Reus: Hello and welcome to the Feed Strategy podcast. I'm your host, Feed Strategy Senior Reporter Ann Reus.
Kimberly Livingston is a nutritional immunologist at Optum Immunity, who specializes in animal and human gut health. As a nutritional immunologist, her primary goal is to help clients around the world understand how nutrition and immune stress alters the development and function of the gastrointestinal tract. Livingston earned her bachelor of science degree in animal science and master's degree in poultry nutrition at the University of Illinois and completed her doctorate at University of California, Davis in nutrition and immunology.
I spoke with Livingston about the presentation she'll give at Poultry Tech Summit, which will be held October 30-November 1 in Atlanta, Georgia.
Poultry Tech Summit is an exclusive international gathering that brings together industry-changing innovators, researchers, entrepreneurs, technology experts, investors and leading poultry producers. Poultry Tech Summit focuses on the transition of innovative technologies into commercial applications to advance the poultry industry.
Here's our conversation.
Hi, Kim, welcome to the podcast.
Livingston: Hi Ann. Thanks for having me.
Reus: Tell me about Optum Immunity and what you do there.
Livingston: Yes, absolutely. Optum Immunity is a new startup company. And we are a company that really focuses on developing products that strengthen the development of an immune-competent system. And there, I specifically oversee the research and commercialization of our primary product, Cosabody.
Reus: What will your talk at Poultry Tech Summit be about?
Livingston: At the Poultry Tech Summit, I will be discussing the novel technology of Cosabody and how it works and utilizing the wonderful attributes that are within egg yolk, how we can use a product like that and improve the intestinal integrity and the gut health, which really helps optimize the immune system during development of the chick. And, therefore, it sets them up to be healthier later on.
Reus: So, are we talking about chickens eating egg yolks? Is that a natural thing for chickens to do?
Livingston: In the laying industry, hens love to eat eggs. So, on a production standpoint, we are always trying to limit egg eaters because they think eggs are fun, yummy, tasty treat. They're very nutritious, and there are a lot of nutritional benefits of those eggs for the animals.
Reus: How is the egg yolk feed additive included in the birds' diet?
Livingston: The egg yolk is separated from the white, it is pasteurized in such a manner that it maintains all of the good attributes of the egg yolk. And we then dry it down and we incorporate it back into the poultry feed. And we feed it for that early stages of life.
Reus: Can you tell me about the research that went into this project?
Livingston: Yes. So Cosabody was originally developed by Dr. Mark Cook at the University of Wisconsin. And he really capitalized on using egg yolks for their various immunomodulatory components and ways that we can manipulate that egg yolk to help improve the gut health of the animals. So ultimately, we have the proprietary component is, we have manipulated some of those immunomodulatory aspects in the egg yolk that, when the animal eats it, it is able to utilize that and, essentially, those components are helping those immune cells fight any microbe that breaks through that intestinal lining. And early on, chicks typically have what we call leaky gut — that's natural. So, by having the few immune cells that are there, better able to respond, it helps improve the livability of those animals.
Reus: Have you attended Poultry Tech Summit before, and what do you hope to get out of it this year?
Livingston: I have not attended Poultry Tech Summit previously, so I'm very excited to attend this year. I really am looking forward to describing this new, novel technology and all of the benefits to the industry and how this novel technology can really help those animals be set up for the rest of their production life, to help them fend off some of those diseases, and really talk to producers and find out their ideas of how this technology can be utilized in their production systems.
Reus: Well, I hope you have a great summit, and thank you for joining me on the podcast.
Livingston: No, thank you.
Reus: Registration for Poultry Tech Summit is now open, with early savings available. For more information, go to wattglobalmedia.com/poultrytechsummit.
Thanks for listening. I'm Ann Reus for Feed Strategy.