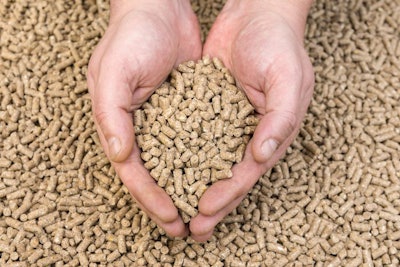 Product showcase highlights latest animal feed industry technologies, feed additives
The COVID-19 pandemic forced the cancellation of many in-person trade exhibitions serving the global animal feed industry. The 2021 New Product Reveal aimed to highlight the latest feed-focused technologies introduced to the market in the past 18 months. In a typical year, many decision-makers would have been introduced to these products by a sales representative in person or at a trade show.
Feed Strategy's November/December 2021 issue provided a comprehensive collection of the latest product and service offerings. This feature contains the new products that didn't make it to the magazine due to space constraints.
Adiveter | Adifarm G+ premix
Composed of resinic acids and monolaurin to control the intestinal gram-positive bacterial population and enhance gut health and microbiota
High efficacy against the most relevant gram-positive bacteria, i.e. Streptococcus suis, Clostridium perfringens, Staphylococcus aureus
Improves intestinal health and enhance gut microbiome to cope with reduced antibiotic and zinc oxide production
Stable against granulation heat stress
Improves animal performance and footpad dermatitis (FPD)
ANDRITZ Feed and Biofuel | Paladin 2000
Now available with three rollers, automatic roller adjustment (ARJ) and roll slip control (RSC)
The new quick die change (QDC) feature provides safer maintenance procedures with 50% less downtime
The twin 200kW motors provide 25% more power than previous models
Now fortified with new heat-resistant v-belts and reinforced with more robust timing belts for reduced maintenance
ChainCraft | C-Craft Powder
Strong antimicrobial performance, specifically against gram-negative bacteria, based on high content of Sodium Caproate
Improving gut morphology and boosting the immune system, based on high sodium butyrate content
Easy handling, low odor and high solubility in water of up to 60% based on the sodium salt product form
More sustainably produced than current short- and medium-chain fatty acids by fermentation of food residues, resulting in low carbon footprint and stable supply
Hamlet Protein A/S | HP AviSure
Vegetable protein product for young chicks produced from dehulled and fat extracted soybean meal (SBM) by an enzymatic treatment to reduce the level of antinutritional factors (ANFs)
• Improved performance
• Minor cost for a greater profit
Native Microbials | Avius Protect
Made with microbes that come straight from the intestinal tracts of healthy, high-performing chickens
Helps chickens maintain a resilient microbiome
Ensures optimal protection against microbial stressors

Nutrition Technologies | Hi.Oil
Black soldier fly (BSF) oil, rich in medium-chain fatty acids and highly digestible
Natural antimicrobial properties, such as lauric acid
Sustainable substitute for fish meal or soybean meal in livestock, pets and aquafeed
It improves the feed intake, due to high palatability and volatile compounds
Wisium | T5X
Mycotoxins' risk management through service package including control plan, analysis and mobile app for product and dosage recommendation
Binding: Adsorption of polar mycotoxins proven by unique in vivo and patented model
Detoxification: Enhancement of natural detox pathways and strong anti-oxidation
Immuno-stimulation: Efficient immune system activation
Nutrition Technologies | Hi.Dried
Black soldier fly (BSF) full-fat meal, rich in key amino acids and highly digestible
Natural multiple antimicrobial properties, such as peptides and lauric acid
Sustainable substitute for fish meal or soybean meal in livestock, pets and aquafeed
Enhances growth performance, the survival rate, feed intake and improves feed conversion ratio

Proteon Pharmaceuticals S.A. | Bafasal + G
Helps prevent large economic losses due to Salmonella Gallinarum by targeting it in the animal gut
Minimizes the risk of mortality among valuable breeder, layer and broiler flocks due to Salmonella Gallinarum
Supports birds' health and improves production performance, egg laying and egg hatching rates
Helps to reduce the use of antibiotics on the farm and does not create antibiotic resistance
Quality Technology International Inc. | Q-Biotic 1DP
Single strain probiotic for poultry and swine feed applications
Select Bacillus subtilis strain with high activity, gastric and feed manufacturing stability
Available in concentrated form (Q-Biotic 1CP), and in organic form
Designed to promote a healthy gut and improve performance
Quality Technology International Inc. | BacPack Q1+1
Highly active synbiotic for poultry and swine feed applications
Combination of a select single-strain Bacillus subtilis probiotic (Q-Biotic 1DP) and a highly functional prebiotic (IMW50)
Organic form available
Effective and economical synbiotic option for food safety and performance improvement