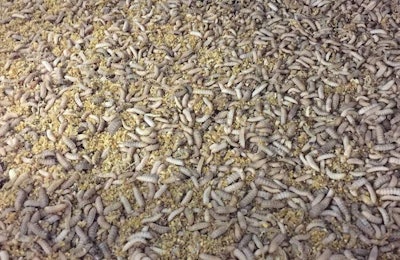 More production needed to make insect meal cost competitive with other feed ingredients
Insect meal has established itself as a valuable feed ingredient, but industry leaders say more large-scale production is needed for insects to become a truly mainstream feed ingredient.
Insect meal is drawing strong attention from aquafeed companies in China, Xingwang Liu, CEO of Guangzhou Fishtech Co., explained during an F3 webinar that assembled leaders from top insect meal companies around the world. However, Liu said that due to high prices and limited availability, purchases of insect meal for use in aquafeed remain low.
That seems likely to change, however, as multiple panelists described their companies' plans for rapid expansion in the coming years.
"It's clear it won't take long for insect-based nutrition to become a true vertical of animal nutrition," said Kees Aarts, CEO of Protix.
French InnovaFeed, founded in 2016, built its first full-scale insect meal plant last year, and already has plans to build a second plant in Illinois, according to InnovaFeed business development manager Maye Walraven. Ynsect, also based in France, has a second plant under construction capable of producing 100,000 tons of insect meal, making it one of the largest in the world, according to Ynsect Chief Strategy Officer Alain Revah. He said Ynsect has plans to build a third plant in North America within three years.
Nutrition Technologies, according to CEO Nick Piggott, opened a pilot factory in Malaysia in 2018, and has set goals directly related to cost as well as scale. Nutrition Technologies envisions one day selling insect meal for less than $2,000 per ton, and anticipates beating the price of fishmeal within three years, Piggot said.
Yet even with the rapid expansion of insect meal production, Revah said he does not believe insect meal will replace the use of fishmeal any time soon.
"I don't think anybody today is going to replace fishmeal or fish oil," he said. "It would be completely replaceable, but our production capacity is low. It's going to increase very rapidly, but it's going to take a while to replace. We may never be able to completely replace it given the size of the market globally."
Liu agreed that insect meal may never replace fishmeal. It's not, he argued, useful as a source of protein in animal diets, due to the high cost. However, he noted that fishmeal is desirable as a premium protein product or even feed additive due to other benefits highlighted by an emerging body of scientific research.
Liu said studies by his company and others have consistently demonstrated that insect meal from black soldier flies shows a strong growth-promoting effect, seems to boost immunity and disease resistance, and improves the palatability of aquafeed. It may not replace fishmeal, he said, but it could perhaps replace fish paste, shrimp paste, and other ingredients used to improve the palatability of aquafeeds.
"Carnivorous fish in the wild have insects in their diets, so it's a natural ingredient for these fish," Revah said. "We've demonstrated the performance … increasing the yield of aquaculture by 35% for many types of fish, and decreasing mortality by 40%, which makes it a miracle ingredient for the aquaculture market."
The F3 panel on insect meal, held on February 25, was the first in a series of scheduled conversations about fish meal alternatives. The next webinar, set to discuss the use of soy-based alternatives, is scheduled for March 18.