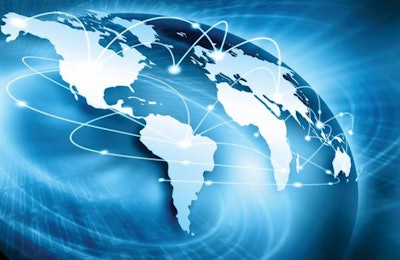 Retiring National Grain & Feed Association (NGFA) president and CEO Randy Gordon provides his perspective on the opportunities that lie ahead for the US feed industry
After 43 years with the National Grain & Feed Association (NGFA), president and CEO Randy Gordon will retire on March 31. Gordon served in various executive capacities within the association before assuming his current position in 2012.
Before he goes, Feed Strategy reached out to discuss how the U.S. feed industry has evolved during his tenure, and to capture his perspective on where he thinks it is headed in the future.
Major feed industry changes
It's difficult to gauge where the industry is headed without reflecting on where it has been. Gordon identified the following as being among the three biggest changes in U.S. feed production over the last 20 years and how they've shaped production today:
In his opinion, the introduction of bovine spongiform encephalopathy (BSE), also known as mad cow disease, in the United Kingdom, with a few cases later occurring in the United States and Canada during the early 2000s, was a monumental event due to its immediate and long-term repercussions.
"BSE really heightened awareness that the animal feed and feed ingredient industry plays a major role in both animal and human health," Gordon recalls. "It also highlighted the importance of taking a science- and risk-based approach to policymaking as the only rational approach to meaningfully addressing such hazards."
Gordon notes how containment of the threat required collaboration across industry organizations (including the species groups, rendering and feed sectors), the scientific community and the Food & Drug Administration (FDA) to address BSE risk factors, which ultimately led to the removal of specified risk materials, e.g. animal brain and spinal cords, from cattle 30 months and older in meat-and-bone meal used as feed ingredients.
"I think it's a real success story of the industry working with government, in a professional, collaborative and science-based and risk-based way, to address a major challenge," he notes. "It demonstrated that the animal feed industry is a major, constructive contributor to both human and animal health as an integral part of the supply chain and provides a road map for addressing food safety challenges in the future."
Emphasis on feed safety and quality assurance
The BSE outbreak led to a renewed focus on feed and ingredient safety. Then came the Chinese melamine contamination incidents in infant formula and pet food in 2008 that led to the 2011 enactment of the Food Safety Modernization Act (FSMA), arguably the most significant U.S. food safety law since the original Food, Drug and Cosmetic Act of 1938. Gordon says the feed industry largely was successful in embedding in that landmark law, as well as in the Food and Drug Administration's preventive control rules implementing it, the same science- and risk-based approach to further enhance human and animal food safety.
Gordon notes that the U.S. feed industry is still adjusting to the FDA's FSMA mandates promulgated through its rulemaking and guidance.
Changing consumer preferences
Consumers worldwide have more disposable income to use toward improving their diets, resulting in exponential growth in animal protein demand.
"I think that's a very positive long-term trend from the feed industry standpoint," Gordon notes.
Meanwhile, consumer interest in animal agriculture has pushed the producers and the feed industry to implement new production practices that align with their values, e.g. addressing antimicrobial resistance, sustainability, animal welfare, etc.
US feed industry challenges, critical issues
Biosecurity and feed hygiene issues as they relate to food safety and animal disease risk mitigation will remain a top feed industry priority.
"There's need for broad stakeholder interaction that includes working with FDA, USDA, academic researchers — as well as livestock and poultry groups — as the feed industry partners to analyze whether animal feed ingredients play any role, and if so how, as a vector for transmitting animal diseases," he says.
Gordon stresses that science does not indicate that is the case for foreign animal diseases like African swine fever (ASF).
But if ASF were to be introduced into the U.S. pig herd, it would have catastrophic impacts on the animal protein industry, affect the demand for feed, feed ingredients, and grains and oilseeds domestically, and could damage U.S. trade.
"Our association and the others in the feed industry have — and will continue to — work very hard to proactively engage with other relevant stakeholders to conduct the research that needs to be done to address these challenges, as well as obtaining and disseminating information to the industry on preventative measures, if and when necessary" he says.
In the U.S., Gordon believes sustainability and climate change issues are likely going to dominate the Biden presidency.
"As we all learn more about the science of climate change and the contribution we think agriculture can play — and already is playing — to address climate change issues, the challenge is going to be for industry to be at the table to help design the shape of these policies going forward so that our industry and U.S. agriculture can continue to grow and contribute to global food security," Gordon says.
For example, he expects the Biden administration to examine "carbon bank" proposals using the United States Department of Agriculture's (USDA) Commodity Credit Corporation (CCC) funds to incentivize farmers to adopt practices that sequester carbon in the soil.
"I think there's good work going on — on both the meat and the feed side — looking at the ways we can contribute to reducing the carbon footprint of our operations," he says. "It is in its infancy, but we're taking the initial steps to examine this whole area. It is going to be a huge effort going forward to devise policies that meaningfully address climate change in a way that is fact and science based."
Opportunity ahead
Gordon predicts continued high demand for U.S. animal foods and the meat, poultry and seafood sectors but emphasizes that global trade agreements will play an integral role in sustaining this growth.
"As we see the world's economies improving and the desire of consumers for wholesome and safe meat and poultry products grow, U.S. feed industry is well positioned so long as the United States continues to aggressively pursue trade agreements, knock down trade barriers and address the sanitary and phytosanitary issues that often crop up that are not science or risk based and can impede trade," he says. "The feed industry is well positioned to assist in meeting that growing export demand for meat, poultry and seafood so long as we have the ability to compete fairly in global markets."
Meanwhile, the COVID-19 pandemic has heightened consumer awareness about the food supply chain.
"There's a new appreciation for the importance of trade and providing not only animal protein products, but grains, oilseeds and other agricultural products from areas of surplus to areas of deficit," he says. "I think we have a great opportunity for trade to take on more importance, and there being a greater appreciation among U.S. consumers about the indispensable role of the food and feed supply chain."
Gordon point to the labor and environmental issues addressed in the United States-Mexico-Canada Agreement (USMCA), which he feels "shows the way toward bipartisan support for trade going forward."
"I'm cautiously optimistic that after the Biden administration addresses COVID-19 and some of the domestic economic challenges and policies he wants to address early on, hopefully, we'll be in a good place to pursue some new agreements."
While the U.S. withdrew from the Trans-Pacific Partnership (TPP) trade agreement under the Trump administration, Gordon feels it is particularly important that the U.S. re-engages with Pacific Rim countries to "balance and take on Chinese dominance in the region."
"We have a lot of good trading partners there — Vietnam, Japan, South Korea, other countries — so I think there's real opportunity," he says.
Advice for future feed industry leaders
Gordon encourages the next generation of feed industry leadership to engage with the professional trade associations and "look at the broader industry groups to get engaged in."
"You can learn so much from just the expertise that other members of this industry have," he says. "Break out of your company role — go to conferences, participate in conventions and different events that industry groups are having — it'll broaden your horizon tremendously."
The second tip: "Keep growing and don't get discouraged."
"Learn from mistakes — I've certainly made more than my share. Be persistent. Learn — keep learning, keep learning, keep learning," he says. "Even after nearly 43 years with NGFA, every day is kind of new and exciting for me. That is what makes it so hard to retire, quite frankly. I am still learning stuff every day. And that's an exciting, wonderful and rewarding thing."
Michael J. Seyfert, Gordon's successor, will become NGFA's top executive staff officer on March 1.
VIDEO: What lies ahead for the US feed industry? https://bit.ly/3rI9WQa