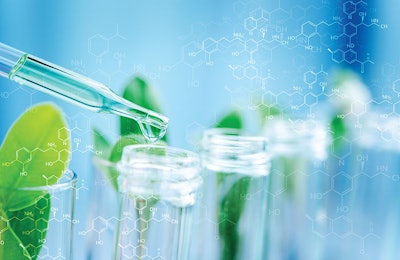 The plant world is a rich resource for feed additives — with many plant extracts, essential oils and blends commercially available worldwide — but do you really know what you're using? French researchers collaborate in Mexavi project to answer this question.
Plant extracts and essential oils have become more and more popular in commercial flocks with a clear increase linked to the "antibiotic-free" trends. France's Poultry Technical Institute (ITAVI) and its National Research Institute for Agriculture, Food and Environment (INRAE) just finished Mexavi, a three-year-long project to develop a scientifically proven method to evaluate plant extracts and their ability to enhance bird's immune system.
Many commercial plant extracts, essential oils and blends are commercially available worldwide with claim regarding growth performances and strengthening of immune systems. For feed manufacturers and farmers, it is not always easy to be sure of what they use regarding efficiency and even toxicity.
Extracts of the same plant are indeed very diverse due to origin and extract techniques. Regarding regulation, it is not easy to classify each plant extract. "If the aim is ailment prevention or treatment, then you're with a medicine. If the aim is to prevent nutritional imbalance, then you're on the feed side as recognized European action plan against antibiotic resistance based on One Health principles," explained Géraldine Chanu, manager of AFCA-CIAL, the French association of premixers and feed additives producers.
To help feed and additives firms, AFCA-CIAL launched its good practice guide (free online), which gives details about extractions techniques and classifications.
"Plants are feed basic except toxic plants," Chanu said. "European regulations forbid to sell feed dangerous for animal or human health, but do not give us a list. A lot of such lists are published worldwide, like in Canada. We've had to write ours based on some principles: regarding toxicity, we list only plants authorized for food, banned those known to be doping products for horses or other competition animals, those listed in B-list of Pharmacopoeia (medicine). Our basis is A-list of the Pharmacopoeia, with plants traditionally used in dietary supplements."
Some plants are authorized in food but not recognize as feed additives. It is the case of Thym Satureoides, widely used as antibacterial, but not for Eucalyptus citriodora used for its anti-inflammatory action.
Producers lead the way
Farmers, as usual, are ahead of regulation and, as shown in a recent survey, use a wide range of plant pieces or extracts and other essential oils, especially in organic farming, explained organic institute ITAB's Catherine Experton.
"They use them for a number of reasons," Experton explained. "As a repellent, such as garlic, geranium or lavender; as an immunostimulant, such as Echinacea and ravintsara; for liver or kidney drainage, pest control. In our last survey, we examined 62 products that had been used on organic poultry farms and listed 203 reasons to use those 62 products."
In 80% of the products used, farmers looked for a prevention activity or hoped they would work for treatment.
First, the goal is to know the product.
"Plant products may be very different depending on whether we are talking about extract, concrete, resinoid, pomade, extracted oleoresin, supercritical fluid extract, single fold extract, tincture and infusion, alcoholate, distillage, hydrolate, volatile concentrate or absolute," listed Denis Bellenot, from ITEPMAI, the French institute for perfume, medicinal and aromatic plants. "You need to be able to characterize each product for regulation, quality and production reasons."
It's impossible to dose all of the plant's components, so the next step is to choose to dose either a marker, which may be easiest to analyze, or the active metabolite, e.g., Rosmarinic acid in Melissa officinalis (lemon balm). This is a powerful antimicrobial and anti-inflammatory compound but, to be efficient, its concentration must be at minima 1% in lemon balm leaf and 2% in dry extract of the same leaf.
"In 83 extracts that ITEPMAI analyzed, we found 6.81% as average, but the extract contents range were wide — from 1% to 11% — and they decrease during storage," he said.
The researchers are aware of the difficulty of analyzing those active ingredients when mixed in feed due to small incorporation rates and interferences with other compounds, including maltodextrins and cations.
The introduction of Mexavi
Mexavi is a new, free online tool designed to help users assess the reliability of trials publications and evaluate the level of effectiveness of plant extracts. (Currently, it is only available in French.)
"We developed a tool to help users in the selection of effective plant extracts to support the immune system of poultry," reported Angélique Travel of ITAVI.
Feed additive supplier Wisium, for example, is working on gut health, zootechnical performances, feed efficiency, strengthening of immune defenses within a societal context of demedication and antibiotic use reduction in farms.
"[Interest in] natural solutions with plant and plant extracts is increasing," said Virginie Michel, part of the Wisium research team. "That is why we test the Mexavi tool and found it quite useful as a first step to reduce, for example, the number of animals involved in a trial."
INRAE's Rodrigo Guabiraba emphasized the need for good science.
"Plant extracts seem to be a good ally for the maintenance of optimal conditions for the well-being and health of the animal in strengthening their immune system, but this is at the moment limited with the lack of robust references and solid methodological bases," he said.
Guabiraba tested ginseng and lemon balm extracts using three kinds of poultry cells: pulmonary epithelial cells, liver cells and immunity cells (macrophages).
He had been able to confirm they had no cytotoxicity and that lemon balm extract show a higher efficiency on immune stimulation. His colleague Laurence Guilloteau confirmed: "It is important to combine several methods to evaluate plant extracts effects on cells and animals in research stations. Then you also need to test them in a sub-optimal situation to be as near as possible of commercial farms."
Guilloteau recommends that acting at the right time and place as "surely, starting the chicks is a right period to enhance immune system."
Thus, Nutricia, one of Mexavi members, tested balm lemon and ginseng extracts on 1080 Ross PM3 males and their meat in its experimental farm, which conditions are less "experimental" than INRAE research station.
Camille Bourrier-Clairat, from Nutricia's research team, explained that this trial confirmed their effects as antioxidant for Melissa, which also improve growth, and as anti-inflammation for ginseng.
Nevertheless, the success of plant extracts must not drive to excess. Dr. Vet Christine Filliat pointed out that nowadays, some farmers distribute too many plant extracts and too long "some birds never saw clear water, always consuming some plant extract directly added or through the feed. It is important to avoid excess."
Editor's note: This article is based on the presentations at the Mexavi Colloquium held at the end of October 2020 in Tours, France. For more information, visit http://bit.ly/3aacukt.