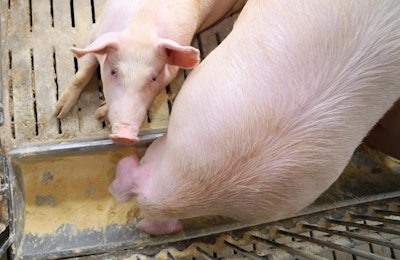 USDA undersecretary says China is progressing with the risk assessment it committed to as part of Phase 1 trade deal
As part of the Phase 1 trade deal with the U.S., China committed to review its ban on ractopamine residues in meat.
U.S. Department of Agriculture Undersecretary Ted McKinney recently said the review is progressing.
"China indeed is moving forward on it," he said. "They are dutifully going through the process, we have provided information in a very timely manner when it's been asked of us, as has the provider of the information. I think it's largely Elanco, even though I think the product is generically produced these days, and they're going through the process and we see them doing that."
Elanco, the manufacturer of ractopamine products Paylean for pigs and Optaflexx for beef cattle, said it supports China's risk assessment of the drug.
"Elanco is supportive of any country's decision to put safe, proven innovation in the hands of farmers," a company spokesperson said in an email. "Our confidence in products, like ractopamine, results from numerous studies that consistently demonstrate safety, efficacy and value. Producers globally have relied on it for two decades as a means for sustainably raising safe, nutritious pork and beef."
If China were to change its stance on ractopamine residues, the Elanco spokesperson said it would be "an important step to increasing the availability of millions of tons of safe, sustainable U.S. pork and beef for Chinese consumers."
Ractopamine is approved for use in pigs and beef cattle in the U.S., but is banned in many international markets, including China and the EU. The drug increases animals' weight gain and feed efficiency, and they end up using 10-20% less feed or water to reach final weight gain.
A spokesperson for the National Pork Producers Council (NPPC) said in an email that ractopamine is approved for use in 30 countries and imports of pork raised with ractopamine are accepted by 75 countries.
"Although ractopamine use by U.S. hog farmers is not widespread, it is an option that is safe and acceptable," the spokesperson said. "NPPC will continue to defend the right of U.S. hog farmers to use production processes and products that are safe. NPPC opposes government mandates that, with no scientific backing, dictate production practices and unnecessarily increase food prices and inhibit consumer choice."