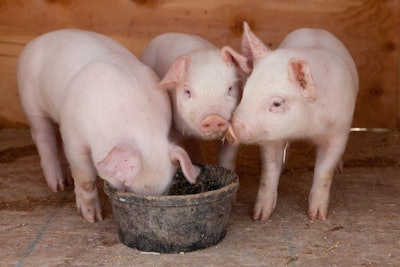 Trial suggests yeast could replace antibiotics and certain proteins in animal feed
Torula yeast could play dual roles in swine diets, potentially serving to replace both antibiotics and certain costly proteins, according to a new study from the University of Illinois.
The study, published in the Journal of Animal Science, concludes that torula yeast could fully replace fish and plasma meal after trialing four diets with different combinations of the three proteins. The yeast not only supported the same rate of growth achieved by weanling pigs fed the other two proteins; according to the study, the feed conversion rate of the experimental diets also increased with higher levels of yeast inclusion.
Hans Stein, one of the authors of the paper and a professor of animal science at the University of Illinois, believes the higher feed conversion stemmed from improved intestinal health and increased uptake of key nutrients, and suggested yeast could fill the void left by the absence of growth-promoting antibiotics.
"Yeast has, in some cases, been shown to improve the intestinal health of animals," Stein said, "and if you have improvement of intestinal health, particularly in young animals, that most likely can help you improve nutrient utilization."
Without antibiotics in the diet, young pigs often experience more difficulty with diarrhea which, in turn, results in a slower rate of growth. Research has show that intestinal health becomes critical to preventing this outcome when antibiotics are taken out of the equation, "so anything we can identify that will help us maintain a healthy intestinal tract would be very beneficial," Stein said.
But before torula yeast can be adopted as a growth-promoting additive in commercial settings, Stein said research must determine for certain why the pigs on the yeast-only diets demonstrated improved feed conversion. Stein said his team plans to conduct another trial in early 2021 to try to explain how the yeast functions in swine diets.
Stein still believes the yeast also holds promise as an alternative protein with potential economic and environmental benefits. Torula yeast is grown on waste wood products, Stein said, and might prove easier to scale than some other alternatives such as insects. The nutritional profile of yeast is such that it could replace expensive proteins like fish meal in diets for multiple species, with possible applications in pet food and aquafeed.
"We have worked with many types of alternative ingredients, and this one we have been very happy to work with," Stein said. "This is a very exciting technology."