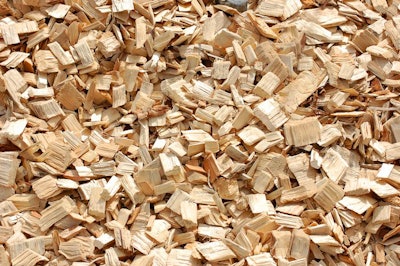 A North Carolina startup says a round of initial trials suggests that a single-cell protein product derived from wood scraps is not only feasible, but may in fact prove a superior protein alternative.
The trials, conducted in collaboration with Texas A&M University, found that a yeast single-cell protein produced using a fermented wood-derived media exhibited a 97% digestibility when included as up to 20% of a feeding regiment in striped bass, according to Ricardo Ekmay, director of animal nutrition at Arbiom.
"We were trying to create a high-value protein — something that is not only high in total protein and amino acid content, but one that is highly digestible," Ekmay said. This was critical to the company's sustainability goals, he said, because "the more protein the animal eats that is not utilized by the animal, that can harm the environment and contribute to pollution."
Arbiom is primarily a technology company, Ekmay said — one that started out looking for uses for a process fermentation process that can break down woody plant material and produce a vast array of projects. Its protein product, which is still undergoing trials and demos, will be its first commercial offering because Arbiom found its "true calling" in creating for the animal feed industry a fishmeal alternative that boasts a superior nutritional profile and a lower ecological footprint.
The high digestibility seen in its initial trials, Ekmay said, was a "must have" for the company. "We're very pleased with the results," he said.
The company is also focused on keeping production costs low to ensure the economic feasibility of its protein. But as with many novel and emerging ingredients, Arbiom is struggling to achieve the volume necessary to bring a feed ingredient to market.
"It's this chicken-and-egg scenario," Emkay said, "where you have to make sufficient volume to matter, and you won't matter until you have sufficient volume."
Arbiom began work on a feed ingredient about three years ago, Ekmay said. Research officially began last year — these results are just the beginning of a comprehensive research plan that calls for additional trials in salmon and swine. Arbiom has begun demonstrations of the protein to prospective partners, but doesn't anticipate bringing a commercial-scale facility online until 2022.