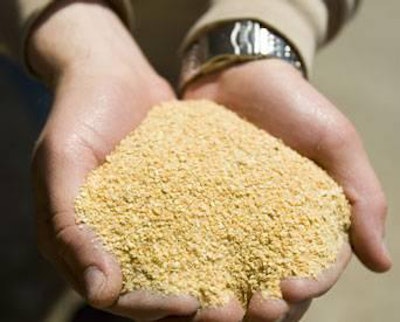 New plan aims to reduce soybean meal inclusion in animal feed to less than 13% by 2025.
China's agriculture ministry has issued a three-year action plan to reduce the inclusion rates of soybean meal in animal feed in an effort to reduce its reliance on soybean imports.
The new plan says soymeal inclusion in animal feed should be reduced to less than 13% by 2025, down from 14.5% in 2022, according to a Reuters report. It would "guide the feed industry to reduce the amount of soybean meal, promote the saving and consumption reduction of feed grains, and contribute to ensuring the stable and safe supply of grain and important agricultural products," said the document, published by the Ministry of Agriculture and Rural Affairs.
In April 2021, China's Ministry of Agriculture and Rural Affairs published guidelines that recommended lowering the amount of corn and soybean meal in pig and poultry feed. The guidelines include recommendations for alternative ingredients, "with the goal of improving the usage of available raw materials and creating a formula that better suits China's conditions," Reuters reported at the time.
The guidance recommends rice, cassava rice bran, barley and sorghum as alternatives to corn. Acceptable alternatives to soybean meal include rapeseed meal, cottonseed meal, peanut meal, sunflower meal, distillers dried grains, palm meal, flaxmeal, sesame meal and corn processing byproducts. It also suggests feed formulations based on the region of the country, such as reducing corn by at least 15% in pig rations in the Northeast by using rice and rice bran. In the southern region, it recommends using sorghum, cassava flour, rice bran meal and barley to replace corn in pig feed.
In March, China's soybean imports rose 7.9% from the same month a year earlier as buyers in China stocked up ahead of expected strong demand.
According to reports, the General Administration of Customs noted total imports for the month came to 6.85 million tonnes, down 2% from February's 7.04 million tonnes.
Arrivals for the first three months of the year came to 23 million tonnes, up 13.5% from a year earlier, the data showed.
Much larger volumes are expected in coming months, said traders and analysts, but demand has proven weaker than expected.