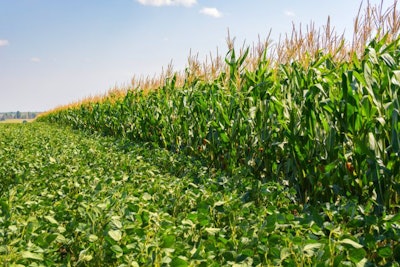 Corn and soybean prices spike after USDA slashes corn and soybean yields
Corn and soybean markets had another volatile week after the U.S. Department of Agriculture (USDA) announced unexpected cuts to this year's anticipated harvest.
The USDA's September World Market and Trade reports cut projected corn yields 2.9 bushels per acre, and soybean yields by 1.4 bushels per acre. The U.S. now expects to produce its third-smallest corn crop in 10 years, according to James Mintert, director of the Center for Commercial Agriculture at Purdue University.
But while a smaller corn crop was expected on account of hot, dry weather, Mintert said it was the cuts to the soybean crop — backing away from what was expected to be a record year for soybean production — that came as a surprise.
"This was really the shocker," he said during a livestream on September 16, noting that soybean prices escalated 76 cents per bushel the day of the release, while corn prices neared US$7 per bushel.
Prices for both commodities cooled in the week after the report, losing about half of the gains posted in the immediate aftermath. And it remains uncertain where corn and soybean prices will fall as the harvest begins. Nathan Thomson, an associated professor in the Department of Agricultural Economics at Purdue, noted that statistical analysis could put corn prices anywhere from US$6 to US$7.50 per bushel next March, while soybeans could experience even greater volatility because the U.S. exports nearly half of its soybean crop.
Mac Marshall, vice president of market intelligence for the U.S. Soybean Export Council, noted during a webinar on September 12 that estimates of Chinese imports of U.S. soybeans dropped another 1 million tons in August. However, decreased trade did not offset the loss of productivity. Field surveys determined that pod counts in U.S. soybean fields are down nearly 7% to the lowest level seen since 2019, according to Randy Mittelstaedt, head of market insights for R.J. O'Brien.
Soy farmers who spoke during Monday's U.S. Soy Export Council webinar indicated they got a late start to planting this year, suffered from irregular rains, and in some cases lost crops to severe wind and weather events. But so far high prices and reports of a smaller crop in the U.S. have spurred rumors of a significant expansion of cropland in South America, which has offset some of the losses in the U.S., Mittelstaedt said.
"Any kind of perceived risk to the South American crop this year will be extremely important and likely lead to volatility in the soybean market," he said.