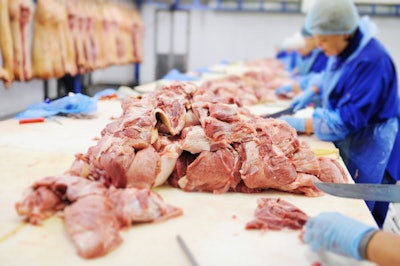 Cuts at 2 slaughterhouses due to higher feed and energy prices for farmers
Europe's largest pork producer, Danish Crown, said it would cut 350 jobs as a result of high energy and feed prices stemming from the war in Ukraine.
Layoffs will occur at two slaughterhouses in Denmark, according to a Reuters report. Just Food reports 275 of those jobs will be cut at a factory in Sæby and another 75 at a factory in Ringsted.
Higher input costs have resulted in fewer pigs sent to slaughter.
"Payments to the farmers have not kept up at the same pace, and therefore the supply of slaughter pigs to Danish Crown has fallen noticeably over the past months," the company said in a statement.
Per Laursen, head of production at Danish Crown, told Just Food that the situation had been the opposite for the past two years.
"This is really an unfortunate situation. Since autumn 2020, and up until a few weeks ago, we almost constantly received more pigs than we could slaughter. Now, the situation is quite different, and we will probably be forced to say goodbye to 350 employees," Laursen said.
The detection of African swine fever (ASF) in Germany in July 2021 led to import bans on pork from the country, which increased demand for Danish pork.
"Two years ago, Danish Crown saw a major increase in supplies on the back of the outbreak of African swine fever in Germany. This created a need for several hundred new employees at abattoirs all over Denmark. Now, however, the record-high costs of feed and energy have driven many farmers to scale down or even shut down production completely," the company said in a statement.
Laid-off workers will have the opportunity to apply for jobs at other Danish Crown facilities, the company said.
"We intend to work actively to help the affected employees move on – in a joint effort with the Danish Food and Allied Workers' Union (NNF) and the local job centers," Laursen said. "We will also establish job banks, and our social plan has generally proved very successful in the past. Over the years, we have in fact succeeded in helping more than 90% of affected employees transition to new employment or training in the span of six months."