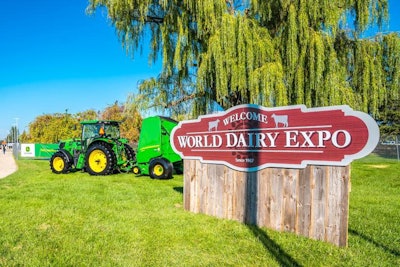 The annual global dairy industry event is a showcase for elite dairy cattle, cutting-edge research and modern technologies.
World Dairy Expo (WDE) is the must-attend event for the global dairy industry, serving as a forum for dairy producers, companies, organizations and other dairy enthusiasts to come together to compete, and to exchange ideas, knowledge, technology and commerce.
This year's event takes place Sunday, October 2, through Friday, October 7, 2022, at the Alliant Energy Center in Madison, Wisconsin, with the theme "Essential Elements."
Dairy-focused trade show
The world's largest dairy-focused trade show featuring more than 650 companies will be open during the event Tuesday, October 4, through Friday, October 7. The trade show is an opportunity for producers to see cutting-edge technology and the latest dairy equipment.
To discover who you can expect to see at Expo this year, search the interactive participating companies list on the WDE website. Exhibitor listings are available year-round and feature company and keyword searchability. New products, research and services available to the dairy industry can be explored through Innovation Unveiled or during a Knowledge Nook Session at WDE.
The trade show is located in the Coliseum, Exhibition Hall, Trade Center and Outdoor Trade Malls.
Educational opportunities
Held throughout the week, WDE's educational programs give attendees the chance to visit with peers while learning from other producers and industry experts about different ways to improve operations and profitability.
Members of the global dairy industry are invited to start their mornings at WDE with educational and insightful Tanbark Talks. This opportunity to learn at Expo takes place in The Tanbark at 10 a.m., Tuesday through Friday.
WDE also offers virtual farm tours presented by dairy owners and managers from around the world. Each tour offers a unique, virtual perspective and opportunity to learn. Virtual tours this year include farms in Michigan, Indiana, Utah and Sweden. Tours are presented daily, Tuesday through Friday, in Mendota Room 1 of the Exhibition Hall at 10 a.m.
The Expo's educational opportunities now include seminars presented in Spanish for dairy managers and mid-managers. Expo en Español is designed to provide valuable information for on-farm personnel and will take place Tuesday through Friday at 2 p.m.
To learn more about upcoming expo seminars, virtual farm tours, Tanbark Talks, Expo en Español as well as other educational opportunities including Knowledge Nook sessions, FFA seminars and Dairy Forage Seminars, visit the WDE website.
About the show

What: World Dairy Expo 2022

Where: Alliant Energy Center, Madison, Wisconsin

When: October 2-7, 2022

For more info: worlddairyexpo.com