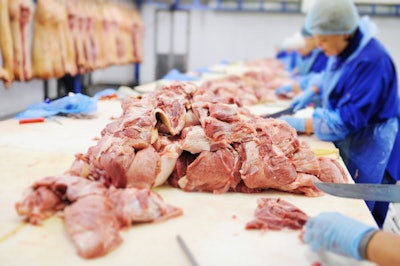 9 pork processing plants are eligible for the yearlong trial program
The U.S. Department of Agriculture (USDA) will allow nine pork processing plants to run at faster line speeds under a yearlong trial, according to a Reuters report.
The move comes after a federal judge in March ordered the USDA to end a provision of the New Swine Slaughter Inspection System (NSIS) that allowed some plants to operate without line speed limits. The United Food and Commercial Workers (UFCW) Union had filed suit over concerns for worker safety.
During the new trial program, the plants will implement worker safety measures and plants will collect data on how line speeds affect workers and share that data with the U.S. Occupational Safety and Health Administration (OSHA). The data could be used in future industry rulemaking.
The nine plants eligible to take part in the trial program are:
Clemens Food Group in Coldwater, Michigan
Clemens Food Group in Hatfield, Pennsylvania
JBS-Swift in Beardstown, Illinois
JBS in Ottumwa, Iowa
Quality Pork Processors in Austin, Minnesota
Seaboard Foods in Guymon, Oklahoma
Smithfield Packaged Meats in Los Angeles, California
Tyson Fresh Meats in Madison, Nebraska
WholeStone Farms Cooperative in Fremont, Nebraska
A spokesperson for the North American Meat Institute told Feed Strategy in an email that the trial program can help ease some supply chain bottlenecks.
"Facilities participating in the NSIS program successfully implemented worker safety and food safety programs operating at faster line speeds, many of them for two decades," NAMI said. "The Meat Institute and its members welcome this opportunity to restore lost production and help ease supply chain challenges but will need to examine further the specific requirements for participation in the limited trial."
The National Pork Producers Council (NPPC) this year said NSIS line speeds were among its top priorities.
NPPC said the March ruling led to a 2.5% loss in pork packing plant capacity nationwide and more than US$80 million in reduced income for small U.S. hog farmers.
"We're very pleased with USDA's proposal to let certain plants run at higher line speeds, which will allow more hogs to be harvested and more pork to get to consumers," said NPPC President Jen Sorenson in a statement. "This is particularly important now given the strong demand for pork, supply chain problems and our industry's packing capacity constraints."
NSIS has been evaluated at five pilot plants throughout the past 20 years and was approved for industrywide adoption in 2019.
"We believe the 20-year pilot program demonstrated that increased line speeds and protecting worker safety are not mutually exclusive," Sorenson said. "We are optimistic that this new program, with OSHA involvement, will result in more pork for consumers without sacrificing worker safety."