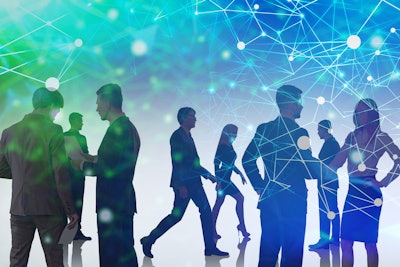 2022 IPPE looks forward to reconnecting the entire industry, building on the success of the 2020 IPPE in-person event and the 2021 IPPE Marketplace
While the International Production & Processing Expo (IPPE) offered online engagement and delivered on-demand features and educational content to keep industry professionals informed with a virtual event in 2021, nothing can replace the networking and interaction achieved at an in-person event. IPPE is looking forward to reconnecting with the entire industry, in-person, Jan. 25-27, 2022, in Atlanta.
IPPE will welcome a global audience of meat, poultry and animal food professionals while showcasing the newest solutions, technologies, research, processes, services and products that the global animal food and protein industries have to offer.
The health and safety of everyone who attends IPPE continues to remain a top priority. IPPE is aware of the challenges hosting an event this size can bring during a pandemic and is taking every measure to provide for a safe and successful 2022 show experience. IPPE is monitoring the changing protocols based on the Centers for Disease Control and Prevention guidelines and will follow state and local government requirements regarding COVID-19. Regular updates will be provided as the situation warrants.
IPPE education programs and workshops will be held from Monday, Jan. 24, 2022, through Friday, Jan. 28, and will feature some of the programs you have come to expect each year including the International Poultry Scientific Forum (IPSF), Latin American Poultry Summit (LAPS) and the International Rendering Symposium. The 2022 IPPE will also feature educational programs focused on current industry issues, including food safety, plant operations and sustainability. For a current list of topics that will be offered, visit the IPPE website or check out the WATT IPPE Directory, available digitally in December and at the show.
Additional attendee activities include the College Student Career Program, Young Leaders Under 30 Program, welcome reception, TechTalks, Innovation Station / New Product Showcase and the Meat Industry Hall of Fame Program.
IPPE is a collaboration of three shows — International Feed Expo, International Meat Expo and the International Poultry Expo — representing the entire chain of protein production and processing. The event is sponsored by the American Feed Industry Association (AFIA), North American Meat Institute (NAMI) and U.S. Poultry & Egg Association (USPOULTRY).
About the show:
Jan. 25-27, 2022
Georgia World Congress Center
Atlanta, Georgia, USA
www.ippexpo.org

IPPE by the numbers:
• 120+ hours of education sessions
• 3 halls with 1,000+ interactive exhibits
• 25,000+ industry leaders
• No. 21 ranking in the top trade shows in the U.S.
• 11.5+ acres of exhibits showcasing innovative technology, equipment and services