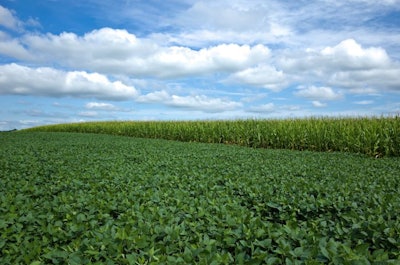 Corn and soybean prices relax as USDA increases projected yields on signs of better weather
After some dicey weather in July, corn and soybean yields are back on track for the second-largest crop in U.S. history, according to the U.S. Department of Agriculture (USDA).
Improved crop conditions — and a new tally of planted acreage — increased the estimated size of the 2021 corn crop by 1.5 million metric tons, and added nearly 1 million metric tons to projected soybean production in the September World Markets and Trade reports. While still lower than the rosy projections anticipated this spring, if realized the new estimates would represent the second-largest crops on record in the U.S. for both corn and soybeans, according to Michael Langemeier, associate director of the Center for Commercial Agriculture and a professor of agricultural economics at Purdue University.
"The big surprise last month was how low USDA's estimate was; this puts it back," James Mintert, director of the Center for Commercial Agriculture at Purdue University, said during a Monday morning webinar. "It's still below trend, but higher than it was last month."
Langemeier noted that the increased yields this month correlated with improved drought conditions, particularly in key states that had previously reported poor crop conditions due to dry weather. With further rains, he said, yields may yet see further improvement before the harvest — particularly for soybeans.
"We could see another half bushel improvement in soybean yields," he said.
Although supplies of both commodities remain tight, prices relaxed considerably with the news of a potentially larger crop this fall. The USDA cut on-farm corn prices by 30 cents per bushel, and soybean values by nearly a full dollar, although Mintert described these cuts as being reflections of current realities more than projections of where prices will be this fall.
Current bids for corn to be harvested this fall are hovering around $4.92 per bushel, and soybeans are going for $12.45 per bushel, according to Nathanael Thompson, an assistant professor of agricultural economics at Purdue University. However, he said that due to tight supplies, futures bids creep upward as they get further into 2022, with March futures for soybeans currently sitting at $12.92 and corn escalating to $5.21 in the same time frame.
Recent events could further sway prices one way or the other. Hurricane Ida has caused shipping delays and backed up exports, Thompson said, but Mintert said it was too soon to gauge the overall impact of the storm on crop yields and market activity. A sudden slowdown in purchases by China has also raised the specter of African swine fever again, raising questions about demand.
"The question continues to be, what is China going to do with respect to imports," Mintert said. "There are lots of reports that African swine fever has come back in a big way to China, and that could impact their need for corn from the U.S."