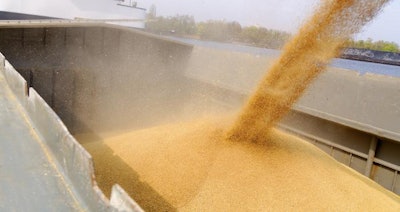 The American Feed Industry Association's Gary Huddleston outlines legislative priorities and offers tips for feed mill inspections
Among the American Feed Industry Association's (AFIA) legislative priorities are Food and Drug Administration (FDA) appropriations, trade and issues at U.S. ports, according to Gary Huddleston, AFIA's director of feed manufacturing and regulatory affairs.
Speaking at AFIA's Liquid Feed Symposium in Oak Brook, Illinois, on September 9, Huddleston said AFIA is seeking US$5 million in additional funding for FDA's Center for Veterinary Medicine (CVM) to help expedite feed ingredient reviews.
"We've got ingredients that we come up with in the U.S., it takes forever to get them to market, it takes forever for FDA to get them approved. A lot of the ingredients, CVM regulates them as drugs when they're just really feed additives, and so we need to get some of that language changed so that we can get them approved a little bit faster," he said.
Regarding trade, Huddleston said AFIA's priorities are to get an agricultural ambassador in place at the office of the U.S. Trade Representative and to get the Trade Promotion Authority, which expired in July, approved.
"Our ask is to get that trade promotion authority approved so that gives the president some support and direction in renegotiating and finalizing those trade deals," he said.
The U.S. agriculture industry is facing challenges in exporting products, as international ocean container carriers frequently refuse to carry U.S. ag exports.
"The port issue is just a mess. We've had trouble exporting ag products for a while now, and it's purely economics," Huddleston said. "The containers are coming over here from Asia full of stuff and they're going back empty and getting reloaded and coming back and they're not going to our ports and getting our ag products loaded on as a back-haul. In our business, that's unheard of. If you can get a back-haul, you get a back-haul. But (the shipping companies) make so much more money hauling the things from Asia to the U.S. than they make off of shipping our stuff back, it pays them to send that ship back empty quicker and get it reloaded again."
The proposed Ocean Shipping Reform Act of 2021 would prohibit some of these actions but, Huddleston said, "I don't know how much teeth that's going to have. You're dealing with international companies anyway."
Tips for feed mill inspections
Huddleston also offered tips for feed mills to help their FDA inspections go smoothly.
Have a Food Safety Plan in place and update it regularly: "Don't be one of those facilities that the inspector comes in and you don't even have a Food Safety Plan. We're way past all of those deadlines. You've got to have that in place," he said, adding that, although the rules specify that a Food Safety Plan should be re-analyzed every three years, feed mills should update them annually, and whenever they have a recall.
Cover your hazards: "Make sure you're being thorough and covering all your hazards. Make sure, if you've got preventive controls in place that they're effective, that they're working," he said. "Make sure you're doing what you say you're doing, that you've got everything in place and that you can prove to that inspector that this program in my facility is working."
Have a Foreign Supplier Verification Program: "If you import anything from outside the U.S., if you're the importer, you've got to have a Foreign Supplier Verification Program. So don't be guilty of not having one," he said.
One bright spot that has come out of the pandemic, Huddleston said, is that inspectors have been pre-announcing their visits and it has made inspections easier on everyone.
"The best thing about COVID – if there's one thing I can think of that came out of COVID that's good, is we've been begging FDA for years to pre-announce inspections in our industry," he said. "We run our facilities with a low number of people. If one or two key people are gone, it's going to make an inspection hard. It's going to be hard on the inspector, it's going to be hard on the facility, and we said the simple solution is just tell us when you're coming. You don't have to give us a month's notice. A day or two. They started pre-announcing inspections and now they said it's working a whole lot better."