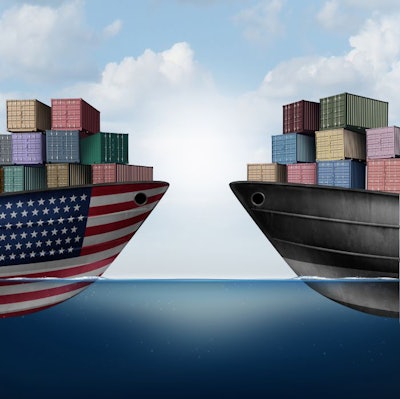 Soybean exports, use show signs of slowing in response to high prices, but markets remain tight
Although corn and soybean prices are expected to remain volatile for the year to come, the latest reports from the U.S. Department of Agriculture (USDA) show signs that demand for both commodities has likely reached a peak, Purdue economists said during a webinar this week.
USDA reported few significant changes since May in its June World Markets and Trade reports, leaving the projected on-farm average price for soybeans at US$11.25 per bushel for the 2020-21 crop and US$13.85 for the 2021-22 crop. Corn, similarly, maintained projected averages of US$4.35 per bushel for 2020-21, and US$5.70 for 2021-22. However, economists and traders alike saw subtle signs of slowing demand in the reports, prompting corn and soybean futures to drop after the release of the June 10 reports.
Corn futures were selling for US$5.75 per bushel on Monday, despite going for 40 cents more Friday of last week, according to Nathaneal Thompson, an assistant professor of agricultural economics at Purdue University. Soybean futures, he said, were trading for US$13.85 per bushel.
Although USDA made no major changes to its projections this month, "what it did do was change the sentiment," said James Mintert, director of the Center for Commercial Agriculture at Purdue University. "It put the thought that 'maybe we have reached the peak' into people's minds."
Corn and soybean prices rose rapidly in the second half of 2020, driven largely by record-setting imports by China. But soybean exports began to drop during the month of May, Mintert said.
"Exports tend to dry up this time of year, and boy did they this year," Mintert said, adding that while traders expected USDA would stick with a 120-million-bushel carryover at the end of the current marketing year, the agency instead increased the anticipated soybean surplus to 135 million bushels, taking the industry by surprise.
Speaking to the U.S. Soybean Export Council, Randy Mittlestaedt, head of market insights for futures brokerage R.J. O'Brien & Associates, noted that U.S. soybean crush has also declined in recent months.
"The market is doing its job in terms of pulling back crush rates, telling the industry we need to slow crush because we don't have the supply," he said.
But while prices may have peaked, Mintert said commodity supplies will likely remain tight despite the respectable size of the crop going into the ground. U.S. surplus corn is expected to represent just 9% of usage by the end of the 2021-22 season, and soybean stocks will remain just under 3%, according to USDA.
"Total corn export shipments are still running ahead of the five-year average," he said.