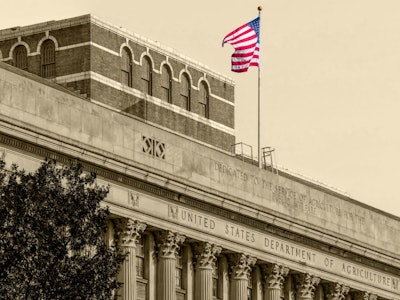 Jewel Bronaugh has served as commissioner of the Virginia Department of Agriculture and Consumer Services
President-elect Joe Biden has nominated Dr. Jewel Bronaugh, commissioner of the Virginia Department of Agriculture and Consumer Services (VDACS), for Deputy Secretary of Agriculture.
Pending Senate confirmations, she would serve under Secretary of Agriculture Tom Vilsack, whom Biden announced as his nominee for that position in December.
Bronaugh previously served as the Virginia State Executive Director for the U.S. Department of Agriculture (USDA) Farm Service Agency (FSA), appointed in July 2015. Prior to being appointed to FSA, she served as Dean of the College of Agriculture at Virginia State University (VSU) with oversight of extension, research and academic programs. Previously, she was the associate administrator for extension programs and a 4-H extension specialist. Bronaugh would be the first woman of color to serve as Deputy Secretary of Agriculture.
In spring 2019, Bronaugh launched the Virginia Farmer Stress Task Force, organized in partnership with agricultural and health agencies and organizations, to raise awareness and coordinate resources to address farmer stress and mental health challenges in Virginia. In fall 2020, she helped establish the Virginia Food Access Investment Fund, a new program to address food access issues within historically marginalized communities.
Bronaugh received a bachelor's degree in education from James Madison University, and a master's degree in education and a Ph.D. in career and technical education from Virginia Tech.
In a statement, American Farm Bureau Federation President Zippy Duvall praised Bronaugh's nomination.
"Dr. Bronaugh's work as Virginia's Agriculture Commissioner and her previous experience as state director of USDA's Farm Service Agency have established her as someone who understands the needs of America's farmers and ranchers. We also appreciate the work she has done to address mental health issues in rural communities – a priority we hope she continues to pursue at the federal level," he said.
Virginia Farm Bureau President Wayne F. Pryor also supports the nomination.
"The Commonwealth has been fortunate to benefit from Dr. Bronaugh's leadership as VDACS Commissioner, State FSA Executive Director, and her roles at Virginia State University. She has done much to promote agriculture and address the many issues facing farm families and rural Virginia. Dr. Bronaugh will carry on this work in her new leadership role in Washington, D.C., and we support her swift confirmation," he said.