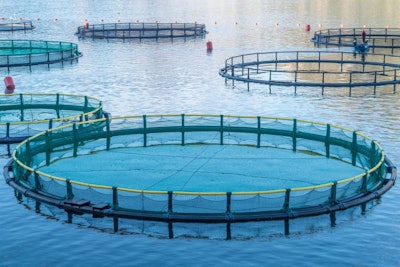 Salmon feed market performed well, but shrimp feed had challenges
BioMar saw the best half-year financial results in its history in the first half of 2020.
The company's second quarter revenue was up 7% compared with the same period a year ago, while its sales volume increases 9%. The company said the growth was mainly in the salmon markets across geographies, aided by its new salmon business in Australia.
"We have seen that in times of crisis, solutions are to be found working together across the value chain," said Carlos Diaz, BioMar CEO, in a press release. "During the last months we have collaborated with suppliers and customers ensuring business continuity and a stable food supply to the end-consumers. At the same time, we have experienced an immense dedication from our employees engaging in delivering high quality products and very competitive product solutions to our customers despite lockdowns and market challenges."
BioMar said that, while its salmon feed business has performed well, its shrimp feed business has been challenged by the interruption of the Ecuadorian shrimp export to China amid the novel coronavirus (COVID-19) pandemic. Mediterranean markets have been challenged due to the near-complete shutdown of the foodservice and hospitality industries in most European markets and travel restrictions affecting the tourist season, in addition to the storm Gloria in Spain destroying significant farming capacity.
"This spring and early summer have been a very challenging and volatile period for all our business units, and we have constantly been on our toes," Diaz said. "Fortunately, we have built an operation model where local agility is a cornerstone. Hence, our business units have been empowered to find solutions together with the customers as the situation evolved. Being guided by a strong purpose makes it easier to be aligned and innovate when the world is constantly changing.
"I am proud we are getting through the first period of the pandemic with such positive results. However, we are not on the other side yet and there will most likely be a further business impact from the challenging market conditions for our customers."
According to Feed Strategy's World's Leading Feed Producers database, BioMar Group is a global provider of aqua feed, primarily for salmon and trout in Norway, the United Kingdom and Chile. It also provides feed for trout, eel, sea bass and sea bream in continental Europe and for shrimp and tilapia in South and Central America. BioMar Group subsidiaries supply feed to at least 80 countries and to more than 45 fish species. BioMar is a holding of the Danish investment firm Schuow & Co.