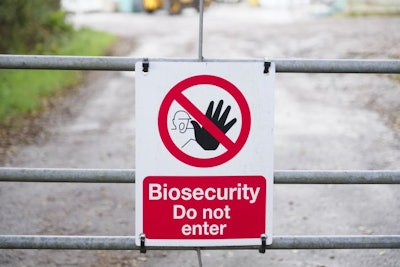 Project aims to create a more resilient swine production system
Delaware Valley University, along with the Pennsylvania Center for Poultry and Livestock Excellence and Penn State Extension, is seeking feedback from swine producers to improve their understanding of biosecurity risks.
The goal of the project, which seeks honest input from swine producers via a questionnaire is "to create a more resilient swine production system in Pennsylvania." Researchers hope to better understand how swine producers see their roles and options in addressing biohazard risks.
"The results of the questionnaire will be used to create instructional materials tailored to producers' needs and directly applicable to their production practices," according to a university press release. "These materials, based on current producers' experiences and challenges, will more effectively meet the needs of Pennsylvania producers while reducing unnecessary burdens."
The biosecurity questionnaire is being funded through Pennsylvania's Center for Poultry and Livestock Excellence.
Other biosecurity projects
The National Pork Board (NPB) and Swine Health Information Center (SHIC) are funding a separate 12-month-long project, with the collaboration of the National Pork Producers Council and the American Association of Swine Veterinarians, to identify gaps in U.S. pork industry national biosecurity.
The goal of this project, announced in July, is to prevent entry of foreign animal disease (FAD) into the country by addressing the identified biosecurity gaps. The National Swine Disease Council (NSDC) represents all of these organizations collectively and provides oversight to the project. After a competitive proposal process, the NSDC awarded EpiX Analytics of Fort Collins, Colorado, with the project.
Many facets of biosecurity
Speaking recently during the WATT Global Media webinar, "Keys to a Successful Feed Biosecurity Program," Dr. Jordon Gebhardt of Kansas State University said there is not just one key to biosecurity, but many things that work together to create a biosecurity program.
"It's important not to just think about (biosecurity) as a single approach," Gebhardt said. "We need to think about the big picture … and understand that all of these measures are additive in nature and all help reduce risk, and that's the goal: Doing things in combination that have the biggest impact on risk reduction."
And, during the WATT Global Media webinar, "Biosecurity best practices for improving feed safety, pig health," Sofia Rengman, Ph.D., business development manager at Perstorp Animal Nutrition, said biosecurity has many levels.
"We work a lot with biosecurity and prevention," Rengman said. "You need to work at several different levels."
This includes ensuring buildings have proper ventilation, temperature and humidity; biosecurity such as vermin control and cleaning; an animal health program; and a high-quality feeding program.
"Working on all these levels, you need an integrated approach," she said. "Everyone needs to aim at the same goal and need to work together," such as farm managers, veterinarians, consultants, feed producers, transporters, authorities, consumers and universities.
"We all need to cooperate. It's not just the farm manager's responsibility," she added.