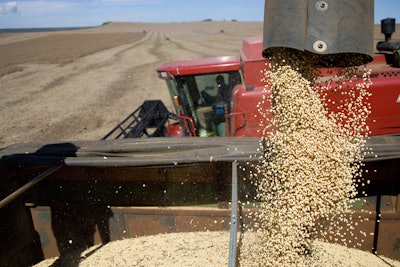 North America feed input prices not expected to negatively affect results
Pilgrim's Pride is optimistic about the U.S. corn and soybean crops and says it does not expect feed input prices to negatively affect margins.
Speaking during the company's second quarter earnings call on July 30, Fabio Sandri, chief financial officer and interim president/CEO of Pilgrim's Pride highlighted U.S. crop conditions and prices, as well as Europe feed wheat prices.
Sandri said corn prices fell over 8% during the quarter, weighed down by the economic impact of the novel coronavirus (COVID-19) pandemic and the expectation of a record crop in the United States. Farmers ultimately planted fewer acres than the market had expected, but the U.S. Department of Agriculture (USDA) is forecasting a new crop surplus of 2.65 billion bushels, which includes a 20% increase in U.S. export demand.
"Crop conditions continue to remain favorable and, although weather conditions can change, we are optimistic about current crop and the likelihood of a record U.S. corn carryout," he said.
Soybean prices fell nearly 13% during the second quarter after increasing at the end of the first quarter on more concerns that COVID-19-related supply chain issues will decrease supply.
"After the market realized that there were no major impacts to supply, prices quickly retreated at the start of the quarter. … As with corn, soybean conditions remain favorable, and we are very optimistic about the U.S. soybean crop," Sandri said.
The USDA raised the new crop carryout estimate for soybeans to 425 million bushels and estimated that also include a nearly 25% increase in export demand.
"Given the outlook remains favorable for U.S. supplies, both for corn and soybeans, we do not see feed input prices in North America being a headwind to margins," he added.
In Europe, feed wheat prices fell 3.5% during the quarter, after an increase in prices at the end of the first quarter. Large increases in wheat purchases initially pushed prices higher during the pandemic but quickly fell as normal purchasing patterns continued.
"With harvest just started in the U.K., and although supplies are projected to be lower and prices higher than last year, we continue to have access to cheaper available alternative grains to help offset the higher-than-expected wheat prices in U.K," Sandri said.