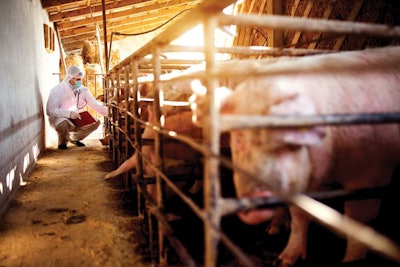 Livestock producers facing severe financial, emotional challenges as pandemic leaves them no option but to euthanize animals
As America's livestock producers face unprecedented challenges stemming from the novel coronavirus (COVID-19) pandemic, the National Pork Producers Council (NPPC) said the federal government must provide financial relief for producers who have been forced to cull their animals due to processing plant shutdowns.
"Payments for farmers who are having to euthanize and dispose of pigs has got to be front and center," said Iowa hog farmer Mike Paustian.
Paustian spoke during a recent NPPC media call, along with Illinois hog farmer Chad Leman and Minnesota hog farmer Kevin Hugoson. They, and NPPC President Howard "A.V." Roth, highlighted the provisions of the Health and Economic Recovery Omnibus Emergency Solutions Act (HEROES) Act, which passed in the U.S. House of Representatives on May 15, that they said are necessary to provide farmers relief during the pandemic. NPPC urged the Senate to act quickly to pass a version of the House bill that includes those provisions.
Without this aid, "we will see thousands of hog farmers liquidate their family farms, resulting in a contracted and more consolidated industry," Roth said. "That's not good for the American consumer or the rural economy."
'This is no secret: Euthanization is going on'
Millions of livestock and poultry have been euthanized in recent months because they could not be processed into the food supply due to COVID-19-related packing plant capacity reductions.
"This is no secret: Euthanization is going on," said NPPC Vice President Nick Giordano. "We're talking potentially about millions of animals. It's a lot of money."
Additionally, the value of hogs has fallen: Hugoson said producers are losing $60-70 per pig. This has taken an emotional and financial toll on farmers across the country.
"We're all losing money with every single pig we send to market right now," Paustian said.
Adding to their challenges, the producers said, is their inability to plan more than a week into the future because of so much uncertainty.
"It's hard to look even a week ahead because packers are still not able to give much of a lead time at all for us as for scheduling loads," Leman said. "It continues to be difficult to know how much feed to deliver to the various sites because we're unsure of how long those animals are going to be there and we don't want too much feed leftover there, but we need to have enough."
Paustian echoed that sentiment: "It's just crippling for farmers to be in this situation where we're having to take it day by day at this point. It's become very challenging to try to manage our animals right now because we don't know when we're going to be able to clear barns out and make room for new animals."
Other HEROES Act provisions
In addition to compensation for euthanized livestock, NPPC also urged the Senate to adopt the following provisions of the HEROES Act in its legislation:
Expanded direct payments, without limitations, to livestock farmers
Increased funding for animal health surveillance and laboratories
Mental health assistance for farmers
"Our No. 1 priority is to get these provisions incorporated wholesale into the next COVID relief package," Giordano said.
View our continuing coverage of the novel coronavirus (COVID-19) pandemic.