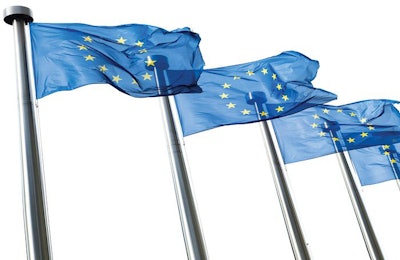 EU animal feed industry anticipates emphasis on self-sufficiency after COVID-19 delays Farm to Fork release
After two months of delays, the EU is about to get its first glimpse of the Farm to Fork sustainable agriculture plan during a release likely to take place this week.
The Farm to Fork Strategy and the Biodiversity Strategy, both subsets of the EU's broader Green Deal climate neutrality initiative, are set for release on May 20, according to this week's schedule for the European Commission. While some ag industry groups believe May is still too early for the release due to ongoing uncertainty triggered by the novel coronavirus (COVID-19) pandemic, they hope the timing of the pandemic and the release will bring self-sufficiency to the forefront of the discussion.
"We don't think now is the best time to publish it as farmers are very much struggling due to the current situation," Ksenija Simovic, communication officer for agriculture interest group COPA-COGECA said in an email. "However, we believe that the Commission is ready to publish next week and we hope that the strategy will take into account some of the lessons learned also from this crisis and acknowledge the important role of farmers in our food system."
While the Farm to Fork strategy was always intended to promote the sustainability of agriculture on economic and environmental fronts, the COVID-19 crisis has highlighted the importance of local supply chains and self-sufficiency, according to Constantin Muraru, communications manager for the International Platform for Insects for Food and Feed (IPIFF).
"I think for those who maybe underestimated the importance of local supply chains, it's an example — a lesson — that shows we have to be prepared," Muraru said. "Because … we have trade partners, we have civilized agreements and all these deals, but in these cases it's difficult to anticipate the decision of a neighbor state."
Self sufficiency with respect to feed production is a challenge in the EU, Muraru said, and one he hopes will be addressed more directly in the Farm to Fork plan now than if it had been released before the COVID-19 pandemic.
"I think it will be more ambitious, from a self-sufficiency point of view," he said. "I hope, at least, that they will understand that it's important to make a transition."
The Farm to Fork strategy is expected to push for further reductions in the use of antibiotics, fertilizers and pesticides in agriculture. Industry leaders also hope to see financial support made available in the form of incentives that encourage more farming within the European Union.
Talk of creating a "circular" ag economy in which food waste is returned to the system as animal feed or other products has drawn the attention of IPIFF, which hopes the zero-waste goal will lead to regulatory support for loosening restrictions on the use of insect meal, and on the substrates insects are fed.
"We're primarily focused on former foodstuffs," Muraru said. "Black soldier flies might like vegetarian pizza, but they might like to the ones with salami on it, too."