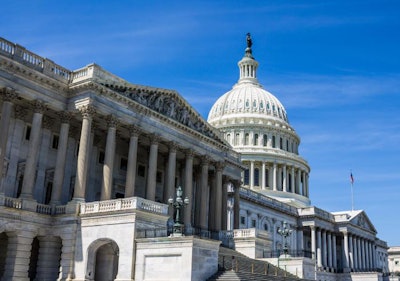 AFIA President and CEO highlights regulatory environment and how it affects the US animal feed industry
The regulatory environment in Washington, D.C., may not be easy for the animal feed industry, but American Feed Industry Association (AFIA) President and CEO Constance Cullman says this year will be an exciting one.
Cullman spoke on January 30 at the International Production & Processing Expo (IPPE) in Atlanta.
"We have a rough ride ahead of us," she said. "It is not going to be smooth waters. It's not going to be a simple scene in D.C., but it's going to be an exciting one."
Cullman said the feed industry is excited about the provisions of the Phase 1 trade agreement with China, but that now there is emphasis on its implementation.
"Our concerns in the feed industry were more process oriented," she said. "We did see a streamlining and a workable system for registering feed facilities, which we have been fighting for over 10 years to try to get new facilities registered for export to China. Since 2011, there hasn't been a facility registered, so it's a huge problem."
Other positive aspects for the feed industry in the Phase 1 agreement include lifting of the ban on ruminant ingredients and poultry ingredients.
"Those were big wins from our perspective," she said.
However, she added that China's pledge to purchase US$40 billion to US$50 billion worth of U.S. agricultural products may be difficult to fulfill.
"There are high aspiration for the Chinese ag purchases," she said. "When we take a look at historical Chinese purchases of agricultural products, this 40 to 50 billion a year is incredibly ambitious. I really have a hard time seeing those purchases being easily made. … That's one of the concerns that I think the ag industry in general has."
Other areas of interest
In other trade updates, Cullman said she was optimistic about the future of the U.S.-Mexico-Canada Agreement, which passed the U.S. House of Representatives with a 385-41 vote, the U.S. Senate with an 89-10 vote and President Donald Trump signed into law on January 29.
"I was shocked that, at the end of the day, we had such an overwhelming positive passage of USMCA," Cullman said.
Mexico has ratified the USMCA, but passage in Canada is not expected until possibly March, but more likely April, she said.
The Trump administration is engaged in trade talks in several regions, including Japan, the United Kingdom, India and Africa, but Cullman said she is closely watching activity in the European Union.
"From a practical standpoint of rules and standards, I'm very interested in what happens with the EU," she said. "If we can make some progress and headway in the EU, I think that will help with the … residual effect on other markets that we're interested in."