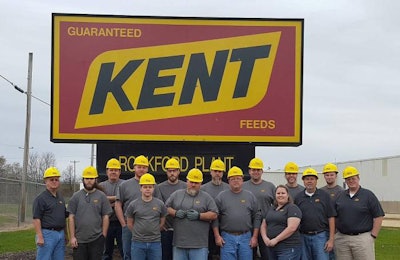 The Kent Nutrition Group (KNG) manufacturing plant at Rockford, Illinois, has been named 2015 Feed Mill of the Year by the American Feed Industry Association (AFIA) and Feedstuffs newspaper. More than 60 feed facilities competed for this year's award, which recognizes overall excellence in feed manufacturing operations, emphasizing safety, quality, regulatory compliance, operating efficiencies and overall awareness of feed safety.
"Our big asset here at the Rockford plant is our people. We have a top-notch workforce of eleven full-time staff who function as a true team. They understand how things need to work at the plant during each of our eight-hour shifts," says Tom Smolen, manager at the plant since 2005. "They are all cross-trained to help out and fill in as needed throughout the plant."
This is not the first time the Rockford crew has been in the spotlight. The Kent Rockford plant was named AFIA Feed Mill of the Year runner up in 2012.
The facility was constructed in 1964 and has the capacity to manufacture 20,000 tons of feed annually, serving the lower two-thirds of Wisconsin and upper third of Illinois. The full-line mill is HACCP- and Safe Feed/Safe Food-certified. The plant produces Kent brand feed for beef and dairy cattle, swine and a growing line of specialty feeds for pheasants and other game birds, as well as llama and alpaca feeds.
As with all KNG facilities, routine maintenance is anything but routine at the Rockford plant. "Creating a quality product is job one for our team, and maintaining our facilities in 'audit ready, all the time' condition is paramount with our Rockford group," said Mike Gauss, KNG vice president of operations. "In fact, it is a priority at all of our facilities so that our teams produce the quality animal nutrition our customers trust them to deliver every day."
"We are proud of our Rockford team. Each one is so deserving of this recognition, and exemplify our company's commitment to quality, service and trust," he concluded.
KNG president, John Thorpe, emphasized, "Our employees have a sense of pride in their work as well as a commitment to doing that work right every day. They have a passion for turning out the top-quality products our customers have come to expect from Kent in the Midwest."